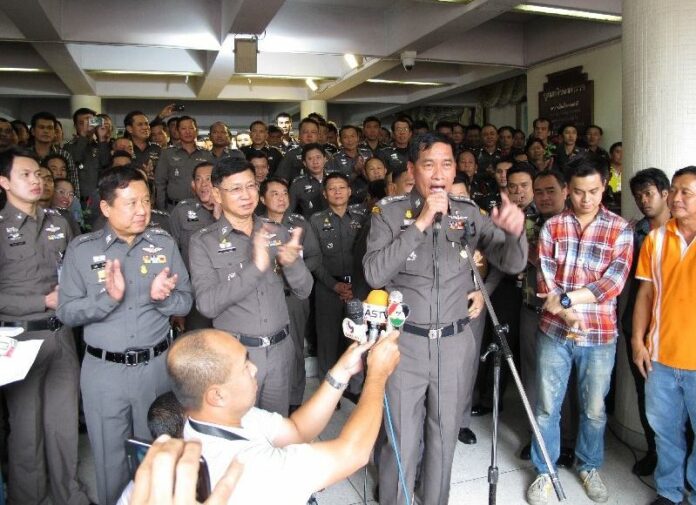 BANGKOK — The former commander of the Bangkok police force will not stand trial in Japan for carrying a loaded gun into a Tokyo airport last month, but is expected to be barred from entering the country for at least one year, according to a Thai police spokesperson.
Pol.Lt.Gen. Kamronwit Thoopkrachang, who led Bangkok's police force from 2012 to 2014, has been detained in Japanese prison since he was arrested on 22 June for carrying a loaded revolver in his suitcase at Narita Airport.
He was released from prison today after Japanese prosecutors decided not to take up the case, said Pol.Lt.Gen. Prawuth Thawornsiri, spokesperson of the Royal Thai Police.
Kamronwit was immediately transferred into the custody of Japan's immigration police, where he will be processed for overstaying his 15-day visa, Pol.Lt.Gen. Prawuth said.
"It was an overstay that occurred during his detention while his case was being deliberated," Pol.Lt.Gen. Prawuth said at the press conference. "Afterward, he will be processed for a return to Thailand in accordance with the immigration laws."
Pol.Lt.Gen. Prawuth said he was informed that Kamronwit will be barred from entering Japan for at least one year because of the visa violation.
"The lightest condition would be a normal send-back. In that case, he would banned from Japan for one year," Pol.Lt.Gen Prawuth explained. "If he is deported, the ban will extend to two or three years, depending on the judgment of the Japanese authorities. But I can say that within the next year, he will certainly not be able to return to Japan."
He added that Thai officials have not been able to meet with Kamronwit since he was released from the Japanese prison, but will question him upon his return.
Pol.Lt.Gen. Prawuth also dismissed reports in some Thai media agencies that Kamronwit's relatives have already booked a plane ticket back to Bangkok for the former Bangkok police chief.
"As for the news about Pol.Lt.Gen. Kamronwit's return to Thailand, we have no clear information to confirm it," he said. "We have to wait for the procedure of the Japanese immigration police. Thai police will be directly coordinating with Japanese police, because his relatives have not been granted permission to meet with Pol.Lt.Gen. Kamronwit, which may have led to a misunderstanding."
Kamronwit is considered a close ally to former Prime Minister Thaksin Shinawatra, who was deposed in a military coup in 2006 but still retains considerable influence over a powerful political dynasty in Thailand. Kamronwit retired from the Royal Thai Police in October 2014, five months after the ruling military staged a coup d'etat against a government led by Thaksin's sister.
For comments, or corrections to this article please contact: [email protected]