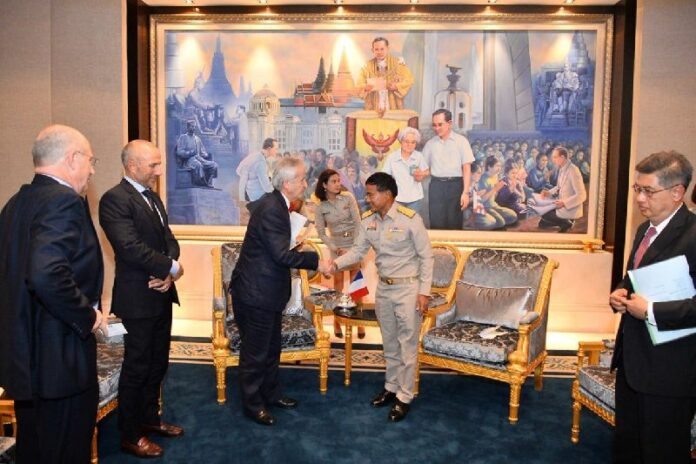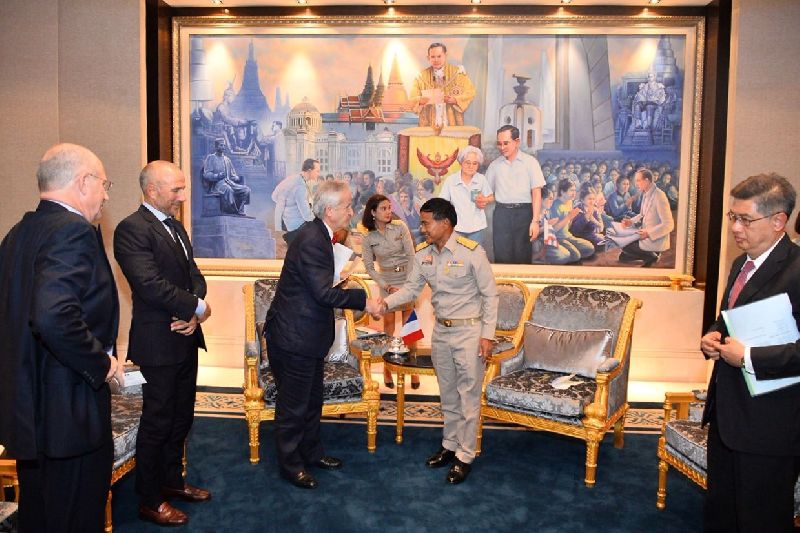 BANGKOK — Thailand's Minister of Justice said he has asked the French ambassador to help extradite Thais charged with insulting the monarchy, a crime punishable by up to 15 years in prison.
Gen. Paiboon Khumchaya met with the ambassador, Thierry Viteau, at the Ministry of Justice yesterday.
Speaking to reporters after the meeting, Gen. Paiboon said he told Viteau about three Thais who fled to France and are facing charges of lese majeste (defaming the monarchy).
Gen. Paiboon said he asked Viteau to "understand" the nature of the wrongdoing and help facilitate the suspects' extradition to Thailand.
"I have explained and created understanding with Mr. Thierry about the cases that affect national security and the Thai monarchy," Gen. Paiboon said. "I have explained to him in detail about how each individual is related to the security of the monarchy, and to political security."
Gen. Paiboon continued, "We want the French government to acknowledge this, and proceed with the legal procedure."
The general did not say how the French ambassador responded to the request, though Thailand's military government has never successfully extradited a lese majeste suspect living abroad. The government says 31 people charged with lese majeste are currently living in exile, with 14 of them residing in neighboring Laos.
Gen. Paiboon also told reporters that he will chair a meeting between the Ministry of Justice and the Division of Special Investigation (DSI) about developing measures to further deter lese majeste violations in Thailand.
Although Gen. Paiboon did not identify the three fugitives by name, three well-known critics of the Thai monarchy are currently residing in France. They include Saran Chuichai, Jaran Ditapichai, and Somsak Jeamteerasakul.
Saran, aka Aum Neko, is an LGBT activist who has harshly criticized the Thai Royal Family on social media, Jaran is a former national human rights commissioner and Redshirt leader, and Somsak is a former history lecturer and prolific writer on the Thai monarchy.
The three are believed to have fled Thailand shortly after the military staged a coup d'etat against an elected government in May 2014.
Last month, Saran told the BBC that she, Somsak, and Jaran have all been granted political asylum by French authorities.
Since the military takeover, Thailand's ruling junta has clamped down on civil rights – banning protests and censoring the media, among other measures – and stepped up the enforcement of the Kingdom's draconian lese majeste law.
In the past year, nearly 50 people have been charged with lese majeste, and more than half of them have been denied bail while they await trial, according to iLaw, a watchdog group that tracks legal cases in Thailand.
The junta has also granted military courts jurisdiction over lese majeste cases, citing the crime's "threat to national security."
Today a martial court sentenced eight people to five years in prison for allegedly producing a series of videos on Youtube that slander the monarchy, Prachatai reported. Two more people were also sentenced to three years in prison for "assisting" the group.
Death penalty concerns
According to Gen. Paiboon, the French ambassador also urged the Thai government to abolish the death penalty, which Gen. Paiboon said is not possible at this time.
"I explained the attitude of Thai people and the context of Thai society," Gen. Paiboon said. "I raised the example of the rape and murder of a school child on a train. It prompted people to campaign for the death penalty [for rape convicts]. The death penalty is deeply-rooted in the mind and attitude of Thai people, so we cannot abolish it yet."
He added, "However, the attitude of Thai government does not reject or oppose human rights and other international obligations. It's just that we are waiting for Thai people's attitude to be more prepared and understanding [about abolition of death penalty]. And Mr. Thierry understands this issue."