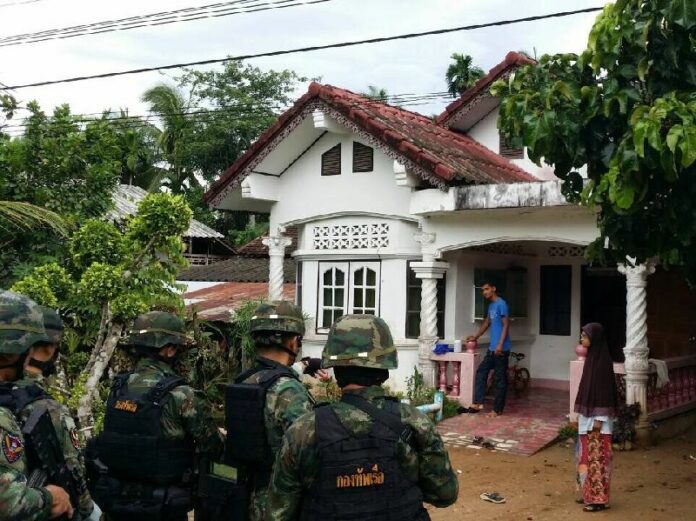 NARATHIWAT — A soldier was killed and three others injured when a roadside bomb hit their convoy in Narathiwat this morning, while a family came under gunfire elsewhere as they rode a motorcycle.
In the morning incident, a group of soldiers from Narathiwat's 32nd Rifle Company were patrolling a road in the restive province's Bacho district when, the military said, a bomb exploded near one of their vehicles.
The blast killed 23-year-old private Kittipong Butr-sripha and wounded three others, the military said in a statement released to the press.
"Officials believe that the incident is perpetrated by a group of agitators in order to assassinate the security officers," the statement says, using a state euphemism for the insurgents who have been battling security forces in the region for the past decade.
Medical workers at Narathiwat Ratchanakarin Hospital said one of the three injured soldiers was admitted to the intensive care unit and is in critical condition, while the other two are in stable condition and have been improving.
Inspecting the damage: A roadside bomb hit this military vehicle, killing one soldier and injuring three others this morning in Pattani province.
A platoon of marines was immediately dispatched to raid a house near the attack to search for perpetrators. They said they found several buried guns and detained the owner, a Muslim woman named Kaya Kana for questioning.
At around 12:30 pm, two Buddhist women riding a motorcycle with a child were shot by unidentified assailants in Narathiwat, according to Police Lt. Daoyot Keyura of the Sri Sakhon Police Station. The boy, 8, escaped unharmed. His mother was shot in the chest and is in critical condition, while the other woman was shot in the leg and is expected to survive.
An injured soldier is rushed to the hospital this morning after a bomb struck his convoy in the south of Thailand.
The victims were reportedly riding a motorcycle when gunmen on another bike flanked them and opened fire with a handgun before speeding away from the scene.
An indistinct network of Islamic militants have been staging near-daily attacks in the southern border provinces of Narathiwat, Yala and Pattani since January 2004. Their goal is thought to be reviving the independent nation of Patani, which was annexed by Thailand in 1902.
The violence has claimed more than 6,000 lives in the Muslim-majority region, which is known colloquially as the Deep South, according to data compiled by human rights groups.
Buddhists Demand Better Protection
Two Buddhist activists, Wisanu Rattanahiran and Pramote Pengchan, set out from Pattani this morning on a journey to walk to Government House in Bangkok to demand better protection for Buddhist communities in the Deep South. .
Wisanu said he and Pramote want the security force to "defend Buddhism, which is our national religion. They must not let anyone bully Buddhism anymore."
The activists said they also wish to meet with junta chairman and Prime Minister Prayuth Chan-ocha at the end of their 1,000 kilometer journey.
"We are walking to see Gen. Prayuth, and we will bring him tears of Buddhists who live in the southern border provinces," Wisanu told reporters. "We want to give them the tears so that he and his Cabinet can deliberate on them."
A group of soldiers is escorting the pair on their journey.
Although a majority of the attacks target security officers stationed in the Deep South, the insurgents are suspected in the deaths of unarmed targets such as public school teachers and Buddhist monks.
On 25 July, two Buddhist monks and a soldier were killed in a bomb attack in Pattani. The bomb appeared to target a group of monks who were collecting morning alms and their bodyguards.
Related stories:
Buddhist Groups Condemn Murder of Monk in Deep South
179th Teacher Murdered In Restive South
For comments, or corrections to this article please contact: [email protected]