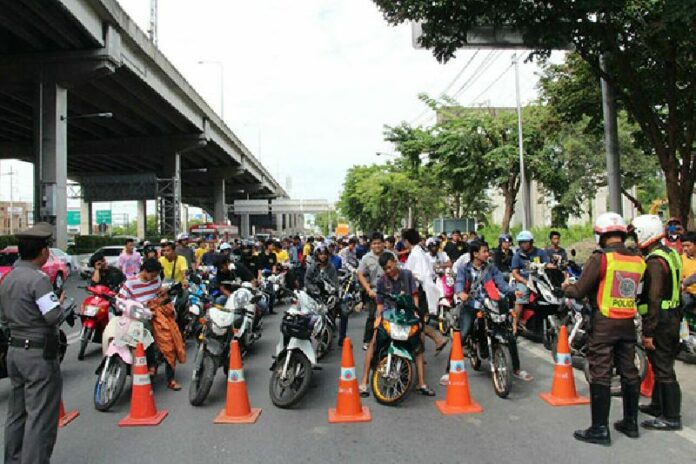 BANGKOK — Dozens of motorcyclists among hundreds detained while setting out on a charity ride from Bangkok were fined and had their bikes confiscated yesterday.
The Bangkok North Municipal Court found 71 bikers guilty of various vehicular violations and penalized them with 3,00-baht fines, two-month jail terms and seizure of their motorcycles after they were detained early Sunday on Viphavadee–Rangsit Road where they were setting out on a charity ride. The jail sentences were suspended.
READ: Police Detain Hundreds of 'Charity Bikers' in Bangkok
"It was a charity event by young people that turned out to cause trouble to other people, because many people joined the event," said Gen. Paiboon Khumchaya, Minister of Justice. "Their good intention became wrongdoing because they bothered other people."
A group of 39 minors were charged in the Juvenile Court, with no outcome to their cases yet available. They were all charged with reckless driving, driving without a license, failing to wear a helmet and inadequate safety equipment on their bikes.
Paiboon said youths should seek official permission before organizing their own charitable events.
"Parents should teach their children that this kind of thing cannot be done," he said. "They should ask for permission from officials first before they organize this kind of activity."
Police were brought by complaints from motorists to find 361 bikers they initially mistook for dek van, or teen street racers authorities have tried to quash. A recent order from the military junta empowered authorities to intervene in possible dek van street races before they start.
Minister Paiboon confirmed the bikers were not dek van, because most were in their late 20s.
"We are not accusing them of being dek vans," he said. "But their actions caused trouble to motorists. This is a different issue from dek vans."
The organizer of the event said they had organized popular charity bike runs in the past, including one that raised 50,000 baht for earthquake relief efforts in Nepal.
Related stories:
Police Detain Hundreds of 'Charity Bikers' in Bangkok
To reach us about this article or another matter, please contact us by e-mail at: [email protected].