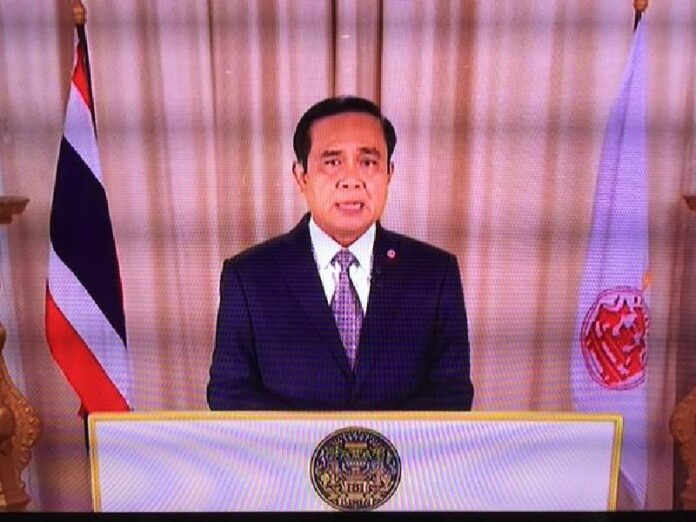 BANGKOK — Junta chairman and Prime Minister Prayuth Chan-ocha addressed the nation at 3pm today, two hours after a second bomb attack targeting tourists hit the Thai capital.
Below is a transcript of his statement:
Greetings Dear People,
The violent incident that took place on 17 August 2015, at around 7 pm, has caused injuries and losses to many innocent people, both Thai and foreign. I and my government would like to express our sincere condolences to the families of the victims. The wounded and the deceased, both Thai and foreign, will be fully provided with assistance and compensation in accordance with the laws.
Based on the aforementioned incident, it appears that there is still group of individuals in our country who harbor and carry out their ill wishes against the nation. They may aim to score political gain, or to destroy our economy, or tourism or are driven by any other motive. The government is urgently investigating the incident and finding the perpetrators and their related movement so that they will be prosecuted.
I and the government would like to insist to all people: We will always stand by the people, in suffering and in happiness. When people suffer, we suffer more. With the conscience in our duty and responsibility to the nation and the people, I'd like to ask all Thai people of all sectors, including all authorities, to join hands together in order to move forward [from this incident], eradicate all evils and dangerous threats that we are going through, both visible and invisible.
If we unite, we shall be able to overcome all obstacles quickly, in order to return normalcy to the country soon.
I'd to ask the media and social media to only report news constructively. Don't escalate conflicts with photos, audios, videos, or criticism or expressions of opinion. Especially in the time that the investigation is still ongoing, as it may influence the case and mislead the public.
As for foreigners living in Thailand, including embassies, consulates, international organizations, the government would like to assure you that we will take care of your safety in lives, properties and interests with the utmost effort, and we will keep you informed on the news.
In this time, I'd like to ask people of all sectors to unite in our strength and heart. Cooperate and help one another. Be vigilant for any abnormal things. Publicize beautiful things and create understanding with foreigners, so that our beloved country and institutions will be stable.
I and the government would like to thank and give moral support to all officials who have been performing their duties in the utmost capability, throughout all this terrible time. I'd like to ask everyone to help create stability and safety in our country, and to bring the perpetrators to be punished in accordance with the laws. Thank you.
To reach us about this article or another matter, please contact us by e-mail at: [email protected].