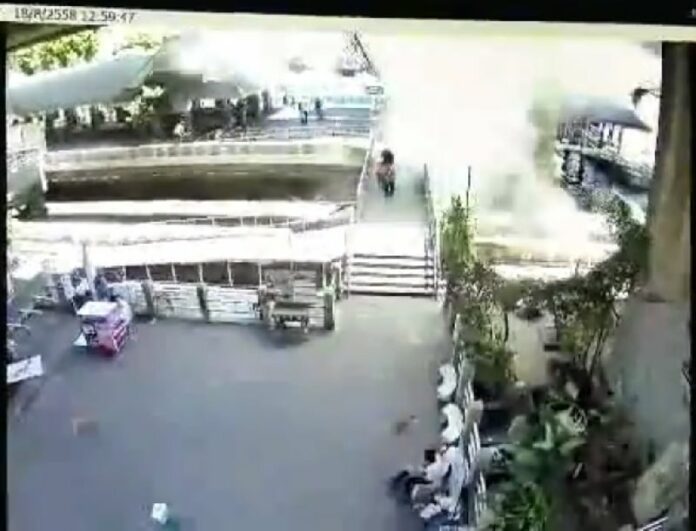 BANGKOK — A second bomb attack apparently targeting tourists hit the Thai capital this afternoon, the second such attack in less than 24 hours.
No one was reported injured in the attack which happened at 12:59pm beneath a bridge over Bangkok's Chao Phraya River near a pier frequented by tourists.
An unidentified assailant threw a bomb down from the Saphan Taksin bridge onto a footbridge crowded with pedestrians, apparently missing the target with the bomb landing and exploding in the water, according to video of the attack.
Authorities believe the attacks are linked, National police chief Somyot Pumphanmuang confirmed at a late afternoon news conference.
"We believe that the perpetrators belong to same group," he said. "Right now police are collecting additional evidence and witnesses. Investigators have made "some progress" he said without offering details.
A file photo of a Chao Phraya River Express Boat on Bangkok's Chao Phraya River. The service is popular among visitors to the Thai capital. Photo: Fabio Achili
Police officers, a bomb team and divers are combing the crime scene. An officer said many pieces of the bomb were found "scattered" on the ground close to the blast site.
Lamai Pararach, 51, a som tam vendor, said she was selling from her stall in the afternoon when she heard a loud explosion from the river, and she saw water shooting into the air, so she immediately laid down on the ground.
"I was afraid there would be more bombs," she said.
The footbridge is located near a busy point of embarkation for the Chao Phraya River Express Boat, a river taxi service popular with visitors.
Video of the incident shows a sizeable blast sending people scattering as they cross the bridge.
Speaking in a live address to the nation at 3pm, Prime Minister Gen. Prayuth Chan-ocha said the perpetrators would be found and brought to justice.
"It appears that there is still group of individuals in our country who harbor ill wishes against the nation," he said. "They may aim to sabotage our political, economic, tourism or other institutions."
He expressed his condolences to the victims and said they would be "fully compensated in accordance with the laws."
Junta spokesman Winthai Suwaree, speaking after Prayuth, asked for the public's cooperation, specifically saying that people should comply if they are stopped and searched.
Police today announced they were seeking a man seen carrying a backpack near the site of last night's attack, but their suspicion seems mostly circumstantial so far.
Later in the evening, Gen. Prayuth said he has been informed of the second bombing.
"I am monitoring reports about the second bomb," he said from Government House. "It was thrown down from a bridge. This means [the bomber] could not plant it, so [the bomber] threw it down from the bridge."
He also urged pedestrians to be vigilant of any suspicious objects, such as a backpack that has been left behind in public places.
Asked whether the two bombings are linked, Prayuth said he hasn't had time to examine the details.
"Since I received the report, I haven't done anything about it," he said. "I have a lot of things to do. Please give me some time."
When a reporter asked why the bombs hit less than 24 hours apart, the general said, "For that question, you must ask the perpetrators. In the part of the government we are protecting and fixing. You have to ask the perpetrators why they did it and for what reason. Don't they pity Thai people and Thailand at all? Go ask them."
Related stories:
Bangkok Bombing: Junta Chairman Misquoted by AFP
Bangkok Shrine Bombing: Police Hunt Backpack Man
Tourists Among 19 Killed by Bomb at Bangkok's Erawan Shrine
To reach us about this article or another matter, please contact us by e-mail at: [email protected].