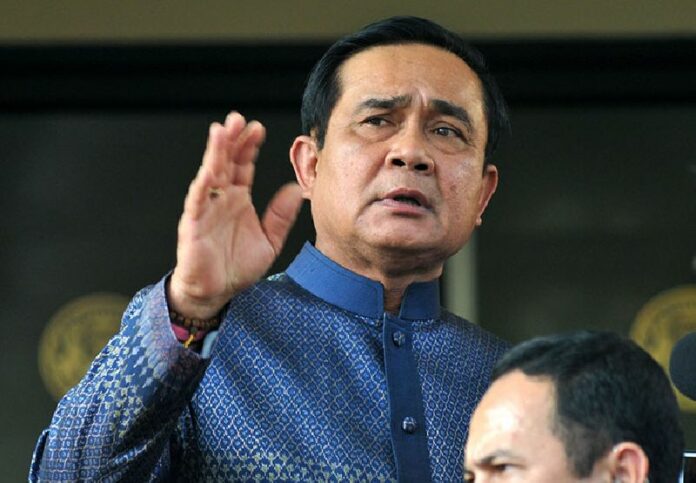 BANGKOK — A report in international media claiming Prime Minister Gen. Prayuth Chan-ocha identified a suspect in last night's horrific bomb attack was based on a mistranslation of his comments.
Speaking at 9am this morning, Prayuth discussed images purportedly taken from Facebook posts by amateur prophets warning people in Bangkok to "be careful" of an unspecified incident between the period of "14 Aug. and 18 Aug."
Twenty people were killed and more than 100 injured when a large bomb went off at 6:55 pm Monday night at a shrine popular with tourists and Thais alike.
READ: Bangkok Shrine Bombing: Police Hunt Backpack Man
Prayuth, who also chairs Thailand's ruling military junta, told reporters that security forces were seeking two people thought to have posted the images, one of which he identified as someone who lives "in the northeast" and "used to be in anti-government groups."
Images purporting to be of Facebook posts predicting Monday's attack. The original posts can not be found and the images could be easily doctored.
Only images of the posts, which could be doctored, have been circulated. The account names indicated in the images cannot currently be found on the social network.
"I have not received [news] about any visible movement. There's only some movement on social media, something like that. Everyone is aware of this. Right now, we are checking whether this has some facts. Why did they write it? Is it true? The one who posted with the name "Mr." something. I have instructed authorities to find them for interrogation," Gen. Prayuth said at Government House.
When a reporter asked Prayuth if the authorities already had identity of the Facebook users, Gen. Prayuth replied, "I have already instructed them to summon the posters. Right now we are looking for them. One of them is in the northeastern region. The poster used to be in the anti-government group."
One of the images was attributed to a user named "Pornpromraksa," which means "may the blessing of Brahma protect you."
Monday's blast, which has killed 20 and injured at least 125, happened at the Erawan Shrine, which is dedicated to the Hindu god Brahma.
The second was "People's Media for Democracy," a name evoking associations with activists of the anti-junta Redshirt movement.
Neither account can be found on Facebook at the time of publication.
However, an AFP report mistranslated Prayuth's comments to mean these so-called "Facebook Prophets" were suspected of Monday's bombing attack.
"Today there is a suspect… we are looking for this guy," Prayut told reporters, adding the man was seen on closed circuit television at the blast site.
Prayut said the suspect was believed to be from an "anti-government group based in Thailand's northeast" — the heartland of the kingdom's Red Shirt movement that opposes the military junta.
AFP story published earlier today.
In fact, Prayuth did not speculate as to who was responsible for the blast. Today police announced they are hunting for a man seen carrying a backpack near the scene of the blast.
"The incident that happened, we have not concluded whose action it was. What we have concluded is that it is an action of evil people who have no regard for the lives of innocent people, no matter what motive drove that action," Prayuth said.
He added, "As for the reports that the motive may be driven by politics or international issues, I don't want to comment on any particular report, because it may lead the investigation into a wrong way. And if it turns out to be false, it would only cause panic."
Asked how many days investigation will take before some clarity surfaces, Prayuth said "As soon as possible. Today we are already checking CCTV footage. We have some suspects, but it's not clear. We have to find them them first."
He made no other comments about the CCTV footage at this morning's news conference.
To reach us about this article or another matter, please contact us by e-mail at: [email protected].