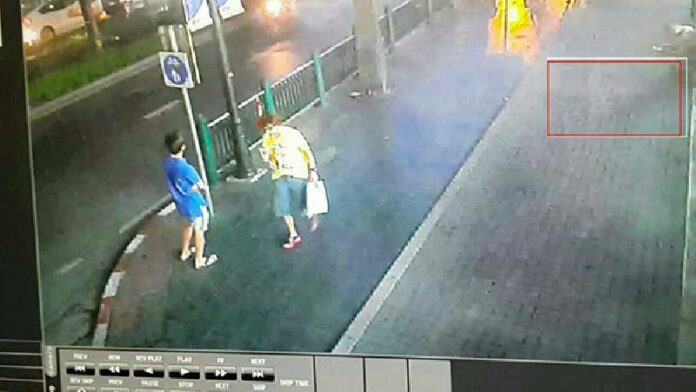 BANGKOK — Police are looking for a man seen carrying a backpack near the site of last night's unprecedented attack in the heart of the Thai capital, which has killed 20 people and injured at least 125 others.
Authorities today shared two images taken from security cameras in which a man is seen wearing a backpack and carrying a plastic shopping bag, only to appear again without the backpack.
Royal Thai Police spokesman Prawuth Thawornsiri said this afternoon the man is officially a suspect in the attack.
"He traveled alone. He arrived at the crime scene, Ratchaprasong intersection and the Brahma Shrine, by tuk-tuk," Prawuth said. "Then he left the crime scene by a motorcycle taxi."
He was reportedly seen arriving on a tuk-tuk and depearting by motorcycle taxi. Police have requested any that were working in the area who might have knowledge to step forward and provide information.
READ: Tourists Among 19 Killed by Bomb at Bangkok's Erawan Shrine
It is not clear if authorities have any more reason to believe the unidentified man was involved beyond the appearance of the backpack.
Seven Asian tourists, five Thai nationals and eight victims yet to be identified were killed in last night's attack at a top tourist destination in the city's cosmopolitan center.
The 20 victims were killed by a powerful blast which ripped through the Erawan Shrine at the peak of rush hour traffic. The dead have been identified as five Thai nationals, two tourists from China, two from Hong Kong, two from Malaysia and a Singaporean. Eight remain unidentified, including two men, five women and a young girl.
Those injured included 42 Thais, 28 from China, two from Malaysia, two from Hong Kong, one Japanese, two Singaporeans and one Indonesian.
Clarification: An earlier version of this story indicated the unidentified suspect was seen arriving to the Rajaprasong area by motorcycle taxi. Police now say he in fact was seen arriving by tuk-tuk and departing by motorcycle taxi.
Related stories:
Tourists Among 19 Killed by Bomb at Bangkok's Erawan Shrine
To reach us about this article or another matter, please contact us by e-mail at: [email protected].