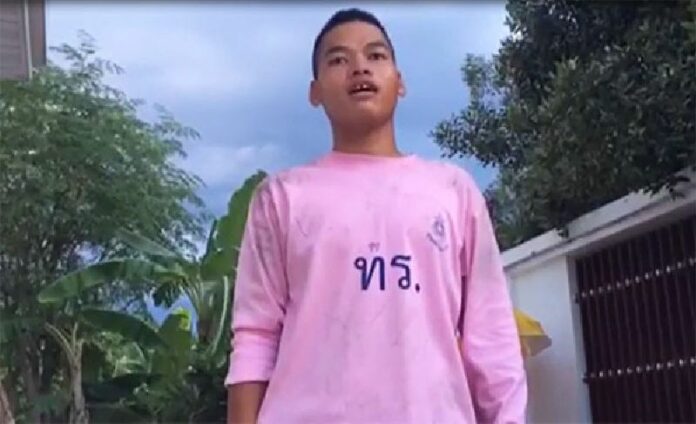 BANGKOK — A retired Naval commander has denied chaining a soldier placed in his service to a tire and accused the conscript of bad and bizarre behavior in a lengthy letter sent to the media Saturday.
In his five-page letter, Rear Adm. Benjaporn Bawornsuwan denies chaining Pvt. Anek Thongvichit to a tire, as the young soldier alleged Thursday in administrative and criminal complaints, and fired back with a volley of accusations the private fabricated many details to cover up his own misbehavior.
"I have evidence in term of documents, places, alibi and communication devices that can clearly confirm [my story]," Benjaporn wrote in the letter provided to the media and Government Complaint Center. "They can be inspected to ascertain dates, times, and stories that I have mentioned above.
Benjaporn goes on to repudiate Anek's claims, starting with why the soldier was assigned to his personal residence in western Bangkok to begin with.
Where Anek said he was ordered to be his personal servant, Benjaporn said he requested the paid post – his second there since July. He was never asked to do any carpentry work, as Anek alleged led to his punishment by chain.
It was on Thursday that Anek walked into the junta complaint center with a tire chained to his waist, saying he had escaped Benjaporn's house after being left overnight with it tied there.
Pvt. Anek Thongvichit walked into the military government complaint center on Thursday with this tire chained to his waist. He filed complaint against a retired Naval commander whose home he described escaping.
He asked for help removing it and proceeded to file a complaint of abuse against Benjaporn. Officials with the military government said he should have taken it to his commanding officer.
In his letter dated Thursday, Benjaporn accused Anek of stealing his stuff and trying to bribe him to win his release from compulsory military service so he could return to working at a Japanese restaurant.
Perhaps most bizarrely, Benjaporn described an incident in which Anek exposed himself to the rear admiral's wife.
He claims Anek stood masturbating beneath a tree watching his wife through her bedroom window. When challenged, he said Anek claimed to be urinating.
Mrs. Retired Rear Adm. Benjaporn Bawornsuwan points toward the marked patch of earth where they allege Pvt. Anek was masturbating while watching her. Anek denies the claim.
Anek was disciplined, Benjaporn admitted, for his inability to sing the national anthem. Benjaporn said he tried teach the words to him, but Anek was reluctant to learn, so Benjaporn ordered him to run around the house "10 times."
While most of the claims and counter-claims cannot be verified, Benjaporn did say he can prove he was at at a golf course hotel several hours away from Bangkok in Prachuap Kiri Khan province on the night of the alleged tire-chaining. He didn't return home until 10pm on Tuesday, he said.
"Therefore, the actions of Private Anek amounts to false accusation, perjury, and grave atrocity, which can be punished by both disciplinary and criminal actions, and which are intended to discredit the reputation of me and the Royal Thai Navy," he wrote.
Read Adm. Benjaporn also sent this photo showing tools within ready reach of where Pvt. Anek alleges he was chained to a tire inside Benjaporn's garage for being a terrible carpenter.
He also denied even having chains at his home.
Benjaporn met with police yesterday to give testimony on the assault and detention charges that Anek filed against him. He repeated the story in the letter. He speculated that several Navy commanders who harbor grudges against him may have encouraged Anek to file his complaints, telling reporters that other commanders abuse the system of "servant soldiers."
"Having soldiers stationed at their masters' homes like this is normal. And it's widespread. Especially the rich people's kids who couldn't dodge the draft in time, they asked for help that way," he said at a Nakhon Pathom police station. "They asked to be posted in commanders' homes, but they aren't really there. And the commanders get the money, 9,000 baht per month."
Today Gen. Udomdet Sitabutr, commander of Royal Thai Army, defended the practice of sending soldiers to serve as personal servants.
"Right now, we don't call them 'servant soldiers' anymore. This word doesn't exist anymore. Right now we call them 'service soldiers' who have a duty to assist their commanders."
He said the work conditions of servant soldiers are enviable.
"People who sign up for this work do so voluntarily. They want to have a living that is different to thee barracks and their friends," he said. "Mostly, service soldiers will be well taken care of. Soldiers in some units even compete with each other to be service soldiers, because puuyai will take care of them. As for their duties, they are light, small things, not something that would frighten people."
Udomdet declined to comment specifically on the Anek-Benjaporn incident. "I would not interfere with it. It's up to that military branch to explain the case."
The investigation by Nakhom Pathom investigators continues.
Related stories:
Shackled Soldier Told to Respect Chain of Command
To reach us about this article or another matter, please contact us by e-mail at: [email protected].