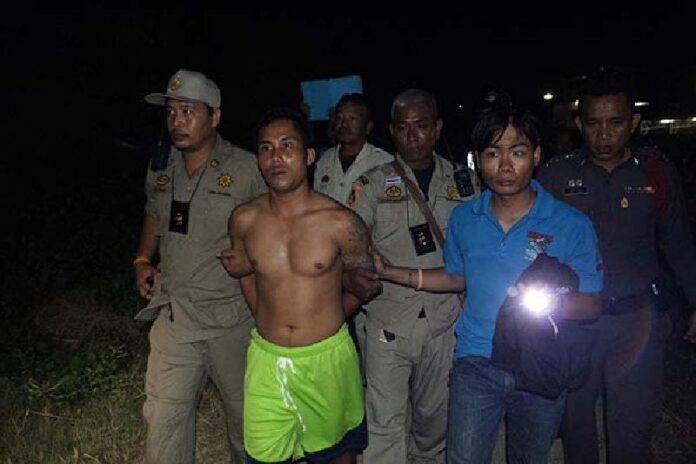 CHONBURI — Police arrested a man in Chonburi province early this morning for stumbling around his neighborhood drunk and half-naked with a loaded shotgun.
Police said they were responding to reports from frightened residents at around 2am when they found a shirtless man with a gun in Soi Sukhumvit-Pattaya 44.
Upon seeing police, the man raised his shotgun and took an unsteady aim at the officers, sending them scurrying for cover. The man then ran off and hid in a nearby wooded area, where he was eventually apprehended by police. Officers ascertained the man was Pracha Yawongka, a 27-year-old native of Sakon Nakhon province.
A shell was found chambered in the shotgun, with two more rounds in Pracha's pocket, police said.
The shotgun police said Pracha Yawongka was wielding as he drunkenly walked around looking for a man who stiffed him on a 1,000-baht bar bill.
Pracha told police the unfortunate night's events all began when he accepted an invitation to drink with a friend he'd recently met near the Bali Hai Pier, according to Police Cpt. Pallop Ringrod of Pattaya police. Pracha said he was especially intrigued by his new friend's offer to foot the entire bill.
However, Pracha continued, after he was well and drunk, his host suddenly hopped on his motorcycle and sped away, leaving him stuck with the 1,000-baht bill.
"Afterward, he felt upset and very angry at the man … so he sneaked into his boss' house, where he works and lives as a security guard, and stole the shotgun," Pallop said. "He was hoping to find the man and shoot him in revenge for fooling him into pay for the bar bill."
No one was hurt in the incident. Pracha has been charged with carrying a fireman without a permit.
To reach us about this article or another matter, please contact us by e-mail at: [email protected].