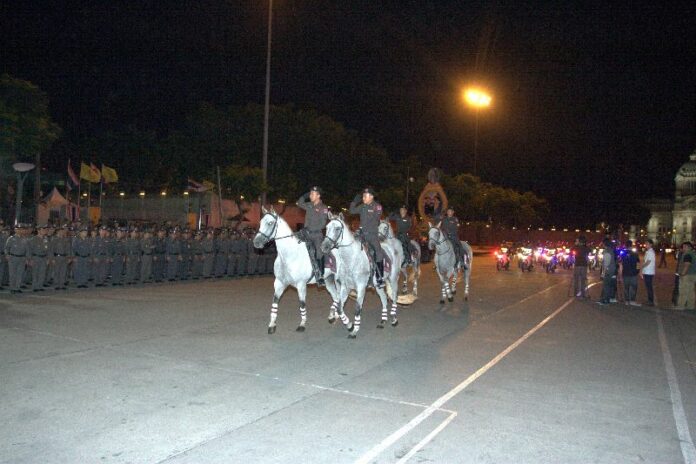 BANGKOK — A massive operation launched by police to find the perpetrator behind last week's deadly bombing has netted 142 people on unrelated crimes, while the bomber and possible accomplices remain elusive.
On Friday, four days after an explosion at the Erawan Shrine killed 20 people, police announced with much fanfare the beginning of "Operation Lock Down the City, Raid the Bandits' Nests," with the objective of "X-raying" potential residences that might hold clues leading to the bomber and his possible "network."
On Sunday, one day before the bombastically named operation ended, a ceremony formally launching its show of force began with a parade of soldiers and police leading out from Royal Plaza in the Dusit district, complete with speeches, mounted cavalry and motorized convoys.
The manhunt kicked off after CCTV footage led investigators to identify a yellow-shirted young man walking into the shrine, which is popular among Thais and foreign tourists alike, where he discreetly set down his backpack and walked away. The bomb detonated several minutes later.
A vehicle identified as a "Commando" truck rolls through the Royal Plaza in Bangkok's Dusit district on Sunday, part of a formal ceremony and parade kicking off "Operation Lock Down the City, Raid the Bandits' Nests."
Police commanders have suggested the shrine bomber might be a foreigner, and the targets of "Operation Lock Down the City" were described as condominiums, guesthouses, hotels and dormitories that cater foreigners.
According to police reports, a total of 139 people have been arrested, three detained, and 4,615 properties searched by the time the operation ended Monday. Yet the vast majority of suspects stand charged of unrelated drug offenses, with a small number taken into custody on weapons charges. The police report did not indicate how many of those arrested were foreigners.
Another three people have have also been arrested for using social media to "spread panic" in connection to the deadly bombing.
On Saturday, a 44-year-old police lieutenant was arrested at his home in western Bangkok and brought in for interrogation for allegedly writing a message on Facebook two days before the bombing that the country would soon be "destabilized."
"Soon, all of you will hear some news. Whether it's good or bad news, I don't know. But the whole country will be destabilized. Just wait and see," read the message, which was set to "public."
The officer was later released without charge after police established his post was unrelated to the bombing.
On the same day, a 17-year-old student in Ayutthaya province was arrested for posting false bomb threats on his Facebook and other web forums. According to police, the student claimed that bombs had been planted in a local market, shopping malls and schools.
The student has been charged with violating Computer Crime Act, which prohibits disseminating information that is false or "affects national security" on a computer system. The charge carries a maximum penalty of five years in jail.
Just yesterday, another man in Suphan Buri province was arrested on a similar charge for posting to his Facebook a claim bombs had been planted at a hotel and supermarket in the province. His posts soon became viral, and police officers were dispatched to the mentioned sites, where no explosives were found.
The man, a 19-year-old student, was later apprehended by police and charged under the act.
A 36-year-old worker at a state enterprise in Bangkok was also questioned briefly by police on Wednesday for posting a "prophecy" to his Facebook about a dangerous incident in the capital city two days prior to the bombing. He was eventually released without charge after police found no link between him and the attack.
As of time of publication, neither the yellow-shirted man nor other possible accomplices have been found. A spokesperson for the Royal Thai Police told reporters on Sunday the suspect may have fled the country.
"I suspect that he may have left," Police Lt. Gen. Prawuth Thawornsiri told Channel 3, according to an Associated Press report. "But we will keep searching in case we can find others who may be in the country or find clues, evidence and witnesses who may have seen him."
Related stories:
Leaked Police Report Tracks Lead Suspect Before, After Bombing
Bangkok Bombing: Police Turn to Interpol as Investigation Stalls
1M Baht Bounty for Bangkok Bomb Suspect
Police Widen Hunt for Bombing 'Network'
Bangkok Shrine Bombing: Those Who Died
Day in Photos: Expressions of Grief, Unity After Terror Attacks
Briton Dies in Bangkok Shrine Bombing
Despite Lack of Evidence, Thai Media Points Blame at Uighurs
Tourists Narrowly Escape Second Bangkok Bombing in 24 Hours
Bangkok Shrine Bombing: Police Hunt Backpack Man
Tourists Among 19 Killed by Bomb at Bangkok's Erawan Shrine
To reach us about this article or another matter, please contact us by e-mail at: [email protected].