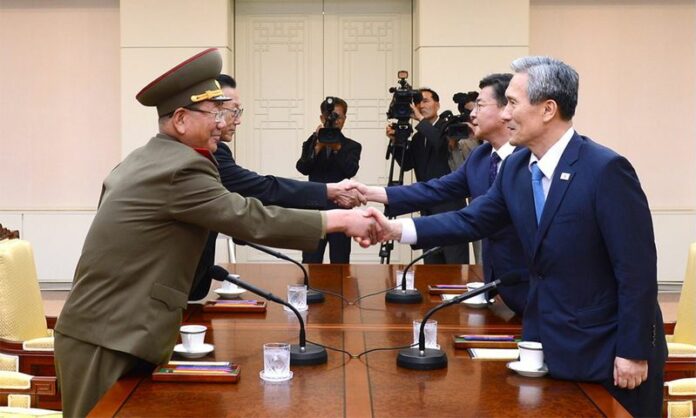 SEOUL (DPA) – South and North Korea have come to an agreement in talks to defuse tensions in the latest crisis on the peninsula, South Korean news media reported early Tuesday local time.
The details of the agreement are expected to be announced later in the morning by South Korea's Security Advisor Kim Kwan Jin.
South Korea's Kim and the North Korean military's highest political officer Hwang Pyong So had been meeting at the border village of Panmunjom, according to South Korean presidential spokesman Min Kyung Wook.
Hwang is considered a close confidante of the country's leader, Kim Jong Un.
Hong Yong Pyo, South Korea's unification minister, and Kim Yang Gon, his North Korean equivalent and a senior member of the ruling party, also took part.
The breakthough came on the end of a marathon third day of talks following recent exchanges of artillery fire and threats of war.
As the negotiations began, South Korean President Park Heun Hye wanted an an apology from the North for the recent border incidents before Seoul would consider silencing propaganda loudspeakers that were switched on last week, Seoul's Yonhap News Agency said.
Seoul has said the speakers were switched on for the first time in 11 years in retaliation for land mines laid by North Korean forces that blew the legs off two South Korean troops.
With little apparent progress in the talks early on, Pyongyang said the South fabricated the mine incident as an excuse for warmongering, according to an editorial in the state mouthpiece Rodong Sinmun.
The tension escalated with an exchange of dozens of artillery shells across the border on Thursday.
About 50 of North Korea's estimated 70 submarines were out of their bases, with their locations unknown, Yonhap cited a South Korean military official as saying.
The artillery deployed on the North's side of the border had been doubled, he said.
Yonhap also reported that North Korea military had mobilized around 20 hovercraft around the western maritime border, citing unnamed military sources.
To reach us about this article or another matter, please contact us by e-mail at: [email protected].
Follow Khaosod English on
and
Twitter
for news, politics and more from Thailand.