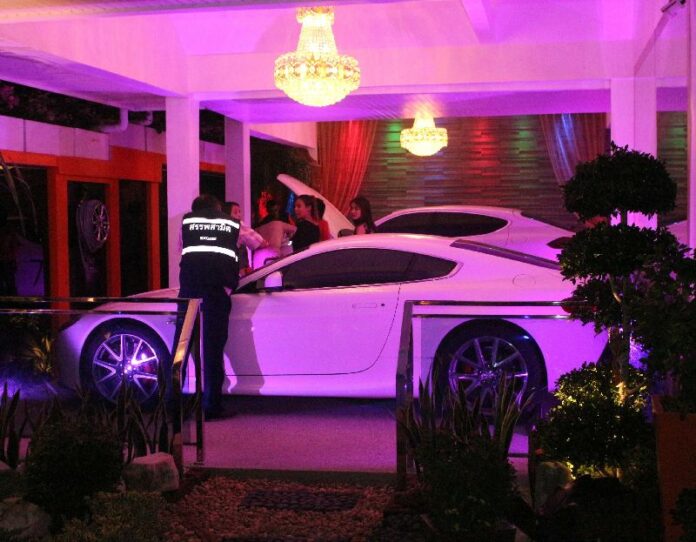 CHONBURI — What started as a call on a noisy house party reportedly turned into discovery of a hoard of untaxed alcohol, tobacco and a sports car, which the Thai state sees as at least 1.2 million baht in lost revenue.
When neighbor's complaints led security officers to a mansion in Pattaya's Jomtien Beach area late last night, they found more than 30 foreign men and 20 Thai women along with a well-stocked bar of about 1,000 bottles of alcohol, 100 cigars, an Aston Martin, a Porsche and a Rolls Royce.
The problem, officers said, was that no duties had been paid for much of the luxury goods – including the Aston Martin. Therefore, district official Prapan Prathumchumpoo said, they confiscated a number of the untaxed items – including the Aston Martin.
Altogether, he estimated the combined value in unpaid taxes to be at least 1.2 million baht.
Neighbors said the residence regularly hosted loud parties at night. Police said it's owned by a woman named Pornchanok Kamphapan. She told security officers in the raid that her husband, a foreigner who works at a hotel in Pattaya, actually owns the place and likes to invite his friends to parties at the mansion. He was not present at the time and unidentified by officials.
Pornchanok insisted all of the items were bought and taxed legally.
Police said Pornchanok was placed under arrest and taken into custody for further questioning.
To reach us about this article or another matter, please contact us by e-mail at: [email protected].