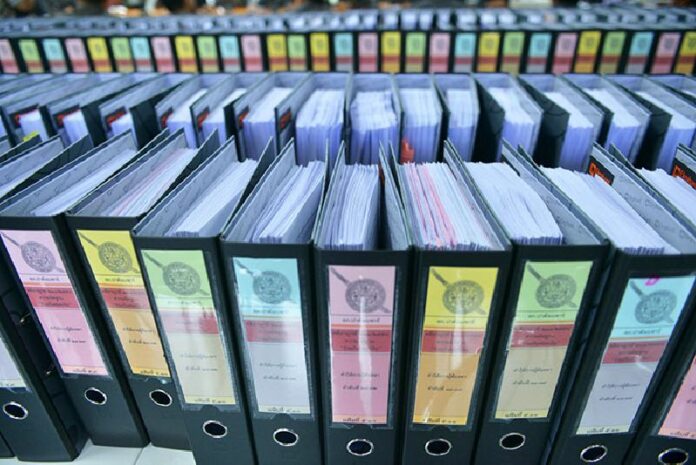 SONGKHLA — Police say they are done investigating the networks behind massive human trafficking operations in southern Thailand.
The investigation launched after the discovery in May of trafficker's prison camps along the Thai-Malaysian border led to 131 arrests, a deputy regional police commander said today as he declared the case solved – and placed on hold because its lead has left for a new post in the prime minister's office.
"The investigation team has been devoting their physical and mental efforts in this case for five months, without holidays, for the sake of justice and humanitarian values, regardless of the victims' races and religions," Police Maj. Gen. Paween Pongsirin told reporters yesterday. "We want to eradicate this evil crime, human trafficking, from Thailand."
He said 153 of the warrants and 91 of the arrests were for suspects implicated in trafficking operations, while the remainder – 79 warrants and 40 suspects – involved money laundry charges related to trafficking activity.
Although police now consider the case solved on Thailand's long-running and endemic trafficking problem, Paween said they will continue to seek prosecution of suspects.
However, he said further investigation is on hold until a new leader of their team is appointed. The previous officer in charge, Police Gen. Aek Angsananont, was promoted to a post at the Prime Minister's Office in Bangkok. He begins tomorrow.
"So, these two cases [human trafficking and related money laundering] have no leader responsible for them right now," Paween said yesterday. "We have to wait for orders from the Royal Thai Police as to how will these two cases proceed, and who will be assigned to oversee them."
One of the investigators is also leaving his post due to mandatory retirement and has yet to be replaced, Paween added.
In June officials said just examining the body of testimony from witnesses would take at least five years to complete.
Sunai Phasuk, a coordinator of Human Rights Watch's office in Thailand, praised the results as a "positive development," noting that not long ago Thai security officers refused to acknowledge the problem existed.
But he also urged the police to not drop the investigation.
"It would be better if they continue this. They can't just close the case now. They should tell the public what they're going to do about it next," Sunai said.
According to Sunai, trafficking or smuggling of Rohingya refugees has not been stamped out but continues despite the crackdown.
"We want to see continuity," he told Khaosod English. "A new set of investigators should be appointed to work on this, on an ongoing basis. We want to see a clear stance from the police on this. We want to see their acknowledgment that the problem is not yet over."
Police Maj. Gen. Paween Pongsiri, at center, summarized yesterday the five-month investigation into human trafficking in Thailand. He said the investigation was on hold until new leadership is appointed by police command.
Human rights activists have accused Thai security forces of turning blind eye to human trafficking operations in southern Thailand for years.
According to reports from international media and watchdog groups, traffickers have been aided and abetted by Thai officials, including members of the military.
A documentary produced by the BBC earlier this year found that "entire communities" assisted human traffickers in some parts of southern Thailand, with residents taking up jobs from the slavers to help run the detention camps.
In July, the US State Department relegated Thailand to its lowest ranking for a second year in its annual report on global human trafficking. It said civilian and military officials were involved with, profited from and provided protection to traffickers, even assisting in selling asylum seekers into slavery.
Without elaborating, Paween said the investigation persevered despite challenges from vested interests.
"Even though we have been intimidated by those who've lost business, by some of the suspects and by groups of influential people, we are undaunted."
The first of the detention camps was discovered 1 May deep in the jungles of Songkhla province, which borders Malaysia. Several more camps were discovered in the following weeks – all of them recently deserted – with mass graves unearthed nearby.
Police believe human traffickers used the camps to house migrants who had been smuggled or kidnapped from neighboring countries, namely Myanmar and Bangladesh, before they were taken to Malaysia. Many of the migrants were also held hostage by the traffickers until their families paid up exorbitant amounts of ransom money, police said.
Survivors from the camps told of harsh conditions, brutal guards who beat and raped victims and migrants murdered because their families failed to pay.
Many of the trafficked victims were the Rohingya, a largely-Muslim ethnic minority that hails from western Myanmar where they are persecuted by local Buddhists.
Other trafficking involved a Chinese ethnic group that similarly complains of persecution at home. Investigators have attributed August's bombing in Bangkok to traffickers of Chinese Uighurs, seeking revenge for a crackdown on their operations. No motive has been claimed publicly by those responsible for the attack.
Related stories:
Navy, Army Officers Charged with Human Trafficking
Court Dismisses Charges Against Phuketwan Journalists
Abuse and Suicide Common Among Trafficked Children
Mass Graves of Trafficking Victims Found in Malaysia Near Thai Border
Thai Govt: US Should Clarify Human Trafficking Rankings
Examination of Human Trafficking Witnesses to Take 5 Years: Police
To reach us about this article or another matter, please contact us by e-mail at: [email protected].