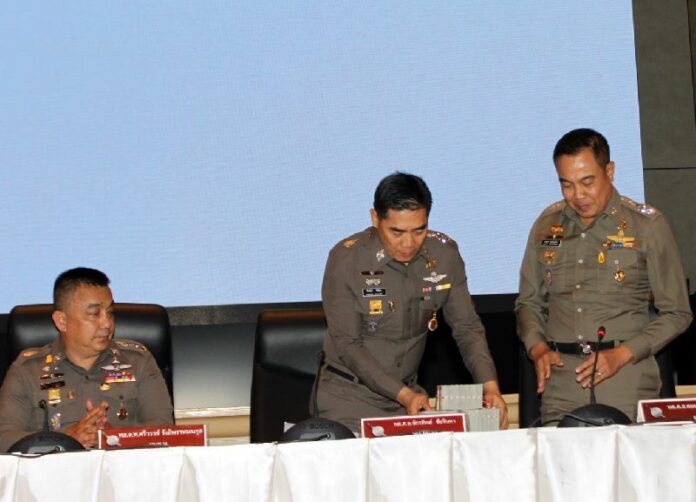 BANGKOK — Top Redshirt activists have urged the national police commander to be careful with allegations a radical Redshirt had a role in engineering the bomb attack that killed 20 people in Bangkok last month.
Jatuporn Prompan, chairman of the United Front of Democracy Against Dictatorship, or UDD, today challenged yesterday's account by Royal Thai Police chief Somyot Pumpanmuang that a Redshirt supporter aided the bombing conspirators by purchasing food and bomb components for them.
Writing on Facebook, Jatuporn said Somyot used the man to unfairly link the Erawan Shrine bombing to the Redshirts by claiming Yongyuth belonged to a radical faction involved in previous bomb incidents in Bangkok's outskirts. He also questioned whether Yongyuth actually exists.
Jatuporn said he was unaware of Yongyuth and questioned a claim by Somyot that Yongyuth did not carry a national ID card, despite police officials claiming he'd been convicted by a court and given a one-year suspended jail sentence for a role in a 2010 bombing that killed four people.
"How can he be a Thai person who has no national ID number? It's impossible," Jatuporn wrote. "But since police are trying to bend it into a politically-motivated incident, I'd like to condemn any political groups or parties that conspired to stage this bomb attack. They are inhuman. Nevertheless, I am still curious what would any political group gain from doing this? It doesn't make sense."
Redshirts widely supported the elected government toppled in a military coup by the current junta in May 2014. Since the military takeover, the junta has been attempting to dismantle Redshirt influence, chiefly by banning their political activities and asking its leaders to "cooperate" with the government.
The abrupt announcement yesterday of a Redshirt link to the international plot came as a surprise yesterday, as police had consistently been telling the media and public they believed human traffickers staged the incident in revenge for a crackdown on their operation.
Police lead bombing suspect Mohammed Bilal, aka Adem Karadag, through a customary 're-enactment' of his alleged role Saturday in the 17 Aug. bombing of the Erawan Shrine in Bangkok.
The assertion was made by top police brass in a nationally televised address that seemed to be their wrap-up to the six-week investigation.
Bangkok police commander Sriwarah Rangsipramnakul said today that Yutthapong is wanted by police on a number of charges, including an alleged role in a 2014 incident in Bangokk's Min Buri district, in which two suspected Redshirt militants died when a homemade bomb they were transporting by motorcycle exploded.
"We have been trying to track down and arrest him for a week now," Police Lt. Gen. Sriwarah said. "I cannot confirm whether he is still in Thailand."
Asked whether it is possible for Yongyuth to have been prosecuted by the court and yet have no ID card, Sriwarah said simply, "It was already possible for him. I don't know how many similar other cases there are."
Nattawut Saikua, another leader of the UDD, warned that Somyot's claim the attack is linked to domestic politics may end up damaging Thailand's reputation.
"He's not being straightforward about this, and he's bending all the issues. It will make all the nations who are watching Thailand right now lose their confidence in the Thai justice system," Nattawut also wrote on Facebook.
He called on Somyot to disclose any relevant information about the alleged link "in a straightforward way."
Related stories:
Police Link Bomb Attack to Uighurs, Deep South and Thai Politics
To reach us about this article or another matter, please contact us by e-mail at: [email protected].