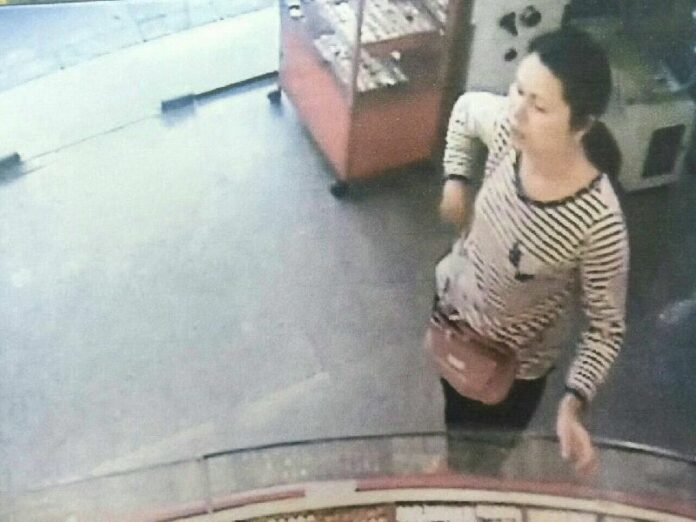 CHIANG MAI — A 46-year-old woman is accused of devising a particularly effective scheme for robbing men, one they might be too embarrassed to tell anyone about – especially their wives.
Chiang Mai police yesterday arrested Pattana Kruengkam, ending what they said was a serial scam using her "trick as a woman" to lure elderly men on various pretexts – even claiming she was dying and wanted a final fling – and then steal from them.
"The suspect used her trick as a woman to approach victims in many places, such as hospitals and markets," said Police Col. Weerayuth Prasopchokechai of the Chiang Mai city police. "The suspect would say she was lonely, unmarried and looking for someone to sleep with. After that, she would steal from them. Some victims got locked inside bathrooms. The perpetrator would just grab their belongings and run away."
During the past year, police said they've received at least 11 similar complaints from men between 55 and 70. All said they had been promised a sexual encounter by the suspect, who then stole their money and other items and fled without consummating the original offer.
Weerayuth said Pattana's arrest came just one week after she scammed her last victim. The 72-year-old man, who requested anonymity, told police Pattana approached him at a public hospital on 21 Sep. and told him that she was in the final stage of cancer and just wanted someone to make love to her.
The man said Pattana led him to a guesthouse room, asked him to take a shower, then immediately locked him inside the bathroom. The victim said he managed to get out by climbing through a window and called police for help.
He clarified to reporters at a police news conference his reason for only speaking on condition of anonymity.
"I was worried that if my wife knew about this, I would be in big trouble," he said, without indicating whether his wife is now aware of what happened.
After the man's complaint led police to arrest Pattana on suspicion of the crime, three other victims arrived at the police station station today, identified themselves as Pattana's victims and filed charges against her.
Pattana allegedly made off with cash, gold necklaces and amulets, which Weerayuth said she later sold to a gold shop.
According to the officer, police tracked her down from security camera footage, including from the gold store where she reportedly sold the stolen items.
Pattana has been charged with theft. She confessed to the charge, but insisted that some of her victims willingly gave the money to her.
To reach us about this article or another matter, please contact us by e-mail at: [email protected].