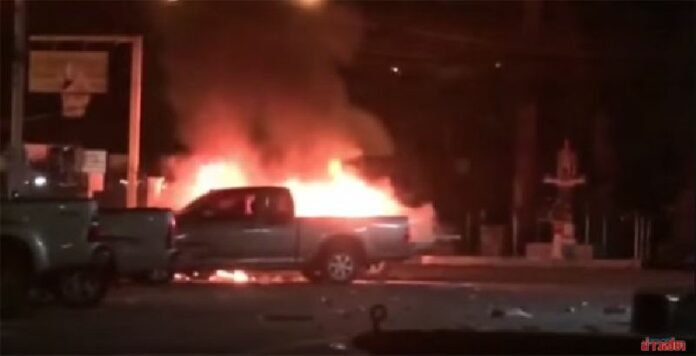 PHUKET — Police today promised a swift investigation into the deaths of two young men allegedly killed during a police pursuit yesterday after an angry mob besieged a police station for 15 hours last night to demand justice for their deaths.
Seven police vehicles were torched last night at the Thalang Police Station where several hundred protesters hurled petrol bombs and stones over the deaths of 17-year-old Therapong Srisamut and Pathomwat Panarak, 22, who reportedly died earlier Saturday when a police pick-up truck crashed into a motorcycle they were attempting to flee upon.
Officers said they were later found to be carrying a number of methamphetamine tablets with them. Relatives of the dead, who led the crowd to the police station, accused the police of using excessive force.
Phuket police chief Pachara Boonyasit vowed there would be a fair trial for anyone held responsible, but his assurances were met with skepticism.
"You won't find a suspect, because the dead were just normal villagers, not the son of police," Preda Pangnet, a relative of one of the deceased, told Voice TV. "We want clarity. Now two children are dead. If they were your sons, how would you feel?"
The siege of the police station went late into the night. It was lifted at about 3:45am this morning when soldiers from the 41st Army Circle in Nakhon Si Thammarat intervened and pledged to broker fair talks.
Several hours later members of the army, police and residents met to discuss the incident. The police officers accused of killing the pair had been removed to another police station, Phuket Gov. Chamroen Tipayapongtada said.
To reach us about this article or another matter, please contact us by e-mail at: [email protected].