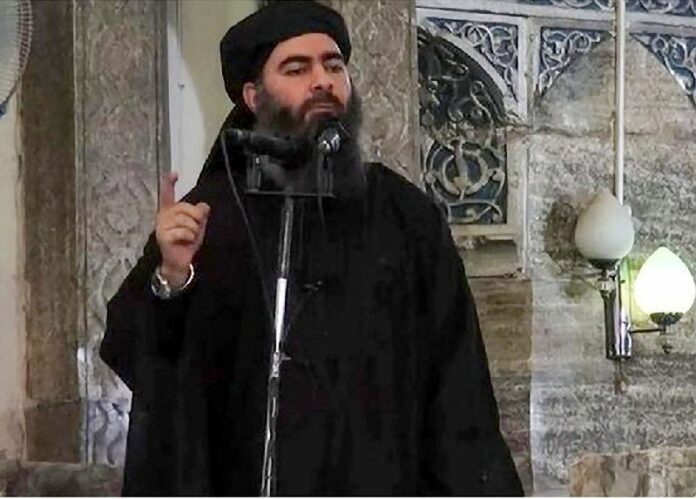 BAGHDAD (DPA) – The Iraqi army said Sunday that its air force had struck a convoy of Islamic State leader Abu Bakr al-Baghdadi in an area controlled by the extremist militia in western Iraq.
The bombing targeted al-Baghdadi while he was on his way to attend a meeting with other leading Islamic State militants near Karabla in the western province of Anbar close to the border with Syria, a military statement said
"The site of the meeting was also bombarded, resulting in the killing and injuring of many of the organization's leaders," the statement said, according to broadcaster al-Iraqiya TV. "The fate of criminal al-Baghdadi is still unknown."
The statement said that the bombing was based on "precise intelligence information."
A security official, speaking on condition of anonymity, told dpa that the attack was carried out on Sunday.
"The bombardment resulted in the killing of a large number of the organization's leaders. We are still checking reports about the fate of al-Baghdadi," the official said.
Islamic State supporters reacted with scepticism on social media.
"He [al-Baghdadi) is not like your leaders who are fond of driving in convoys," Abu Hajar tweeted on the Islamic State-affiliated website al-Furqan.
Another sympathizer wrote: "I try to remember the number of times that the death of the emir of believers, Abu Bakr al-Baghdadi, was announced. May God preserve him."
Last year, al-Baghdadi declared the Islamic State a self-styled Islamic caliphate and proclaimed himself its ruler.
In March, unconfirmed reports circulated that al-Baghdadi was seriously injured in a US-led airstrike in Iraq.
Two months later, Islamic State released an audio recording attributed to al-Baghdadi, calling on Muslims to join his group in Iraq and Syria.