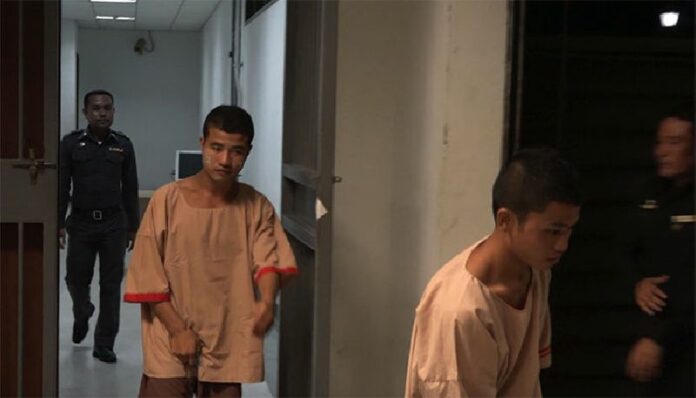 SURAT THANI — The final testimony in the three-month trial of two men accused of double-murder on Koh Tao was heard yesterday with the accused taking the stand to detail crude torture they allege was used to obtain false confessions.
On Saturday and Sunday, Zaw Lin and Wai Phyo, both 22-year-old men from Myanmar, described to the court physical and mental abuse by police looking to extract confessions that they murdered two British tourists in November 2014; confessions they retracted soon after they were made.
"A police officer came back into the room and flicked my genitalia very hard. I tried to protect myself but he pulled my legs apart. They also took photographs of me naked," Wai Phyo said in court, according to The Guardian. "They also kicked me in the back, punched me and slapped me; threatened to chop off my arms and legs, and throw my body into the sea to feed the fish. They also said they would take me into another room and electrocute me."
The trial was held in a provincial courtroom on nearby Koh Samui. The defense has until Oct. 26 to submit its closing statements. A verdict is expected Dec. 24, and the men face execution if convicted.
Defendant Zaw Lin said he was blindfolded and beaten by police, who threatened to kill him if he denied guilt. He previously told the court officers suffocated him with a plastic bag over his head until he passed out on numerous occasions.
Police officials have flatly denied torture was used to obtain the confessions.
Wai Phyo admitted guilt to the charge of entering the country illegally as a migrant worker. He said police told him he had no rights, as he had no passport. He said interrogators told him Myanmar migrants who didn't cooperate had been killed before. A senior police officer convinced him to confess, he said, by promising he would only spend a few years in jail.
He also said he was instructed how to perform in a crime "re-enactment" staged by police soon after their arrest.
Hannah Witheridge, 23, and David Miller, 24, were found brutally murdered Sept. 15, 2014, on Koh Tao, a resort island in the south of Thailand. Investigators determined Witheridge was raped.
The case built by police against the two men, who worked at a restaurant and bar near the crime scene, was based on forensic evidence collected from the scene and the security camera footage.
During the trial, the defense team sought to undermine the credibility of that evidence, but were told little of it was still available for independent re-testing.
The trial has received little coverage in Thai media. A number of foreign correspondents covering it said they had trouble hiring translators due to intimidation from unnamed locals.
Lead lawyer for the defense, Nakhon Chomphupat,told Khaosod English his clients are optimistic about the outcome and put their faith in the court's justice.
"They are relieved now that at least they have done their best to fight," he said.
Last month the defense got a boost from testimony by top forensic scientist Pornthip Rojanasunand, who testified that DNA traces found on a key piece of evidence, the alleged murder weapon, did not match either suspects.
Concerns have been raised by Myanmar officials and human rights observers the two might have been used as scapegoats.
News of the arrest of Wai and Zaw first came Oct. 3, 2014, with an announcement from newly installed police chief Somyot Pumpanmuang that they'd confessed to the crime.
Up to that point the investigation was criticized as incompetent and preoccupied with public perception.
Prior to their arrest, concerns were raised police would seek to blame the crime on migrant workers after investigators said as much at the outset. They then veered from assigning blame to a British friend of the deceased, Rohingya migrants and influential figures on the island before announcing Zaw Lin and Wai Phyo had confessed.
At the time police Gen. Somyot said his investigators performed "a perfect job."
Related stories:
Koh Tao Murders: Defense Team Pleads for More Time
Koh Tao Murders: DNA on Weapon 'Does Not Match' the Accused
Timeline of Koh Tao Murder Investigation
Koh Tao Murders: More Forensic Evidence Available for Re-Test, Witness Reveals
Koh Tao Trial Resumes, Court Shown Footage of Victims' Final Night
Lack of Evidence, Local Media Coverage Adds to Mystery of Koh Tao Murder
Year in Prison Has Been 'Torture,' Says Koh Tao Suspect
News releases are submitted for consideration by third parties, and Khaosod English is not responsible for their content. To reach us, please contact by e-mail at: [email protected].