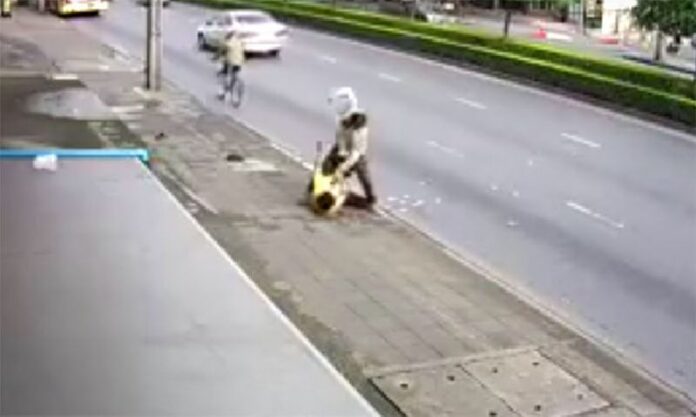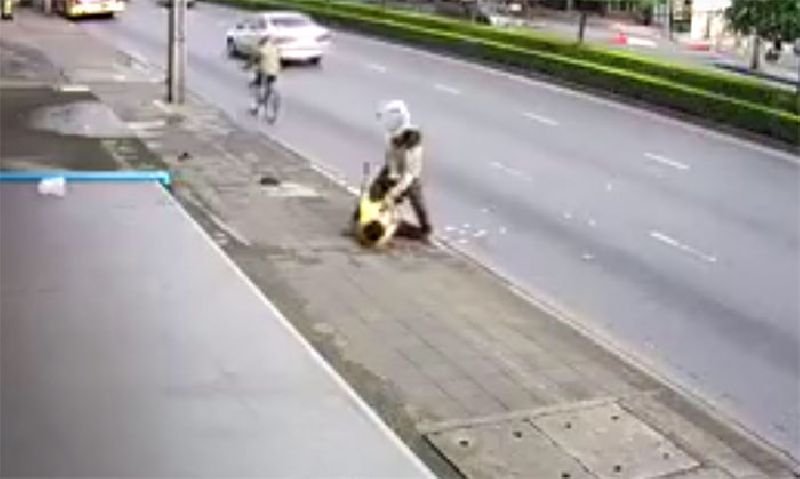 BANGKOK — Police are looking for a man seen attacking a pedestrian and threatening another on a street in the Lat Phrao district of Bangkok.
Police said they became alerted to the attack soon after it happened Tuesday morning near Soi Lat Prao 122 and believe the attacker to be a mentally ill man known for random acts of violence.
"I have instructed investigators and patrol units to track down and find this man, so that police can send him to a care facility," said local police commander Col. Chettha Sawangsuk. "Because I am afraid he may hurt other people again."
Footage of the incident posted online showed a man in long-sleeve shirt approaching a man in a yellow shirt and assaulting him without provocation. The yellow-shirted pedestrian was knocked to the ground and repeatedly punched and kicked before his assailant finally walked off.
Police officers were dispatched to the area after receiving report of a physical assault, where they found the 30-something victim but not the attacker, Chettha said.
"He suffered many bruises on his face and body. He was sent to a nearby hospital, but he did not file report with police," Chettha told reporters.
After the assault, another security camera nearby captured the same attacker approach another pedestrian in a threatening manner, though he does not assault him.
According to Chettha, local residents said the perpetrator appeared to be a mentally-unstable homeless man who has committed similar crimes before.
Residents said that the man would threaten or punch male victims, and expose his genitals to women, Chettha said.
In September, a 38-year-old Laotian man was arrested for assaulting random strangers in Bangkok's financial districts. Police moved to arrest him after his antics were posted and shared widely on the social media, where he was given the moniker "Siam Mafia."
Related stories: