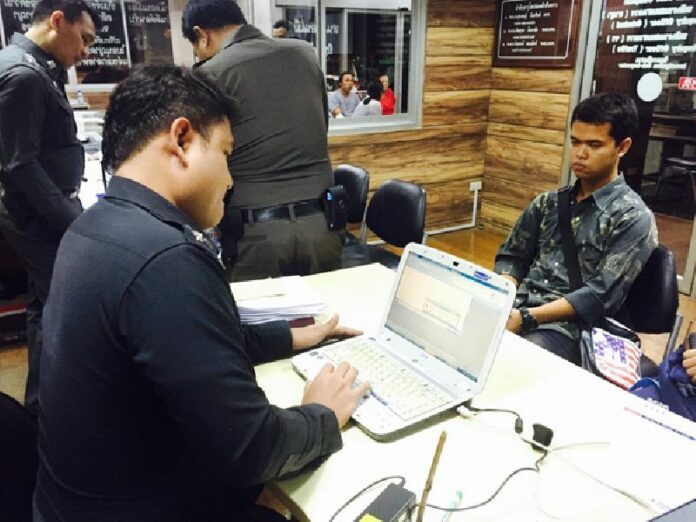 BANGKOK — A flippant comment about bringing a bomb onto a Thai Lion Air flight could mean jail time and a lawsuit for the man whose bid for attention from a flight attendant grounded a flight on Sunday.
Passenger Pichit Boondaeng, 23, faces up to five years in jail and a 200,000 baht fine for a criminal charge of instigating panic, after his jokes about a bomb in his bag caused the pilot of the Hat Yai-bound flight from Don Mueang to clear passengers from the plane.
Police Col. Surachet Bundit of Don Muang police said Pichit confessed to "teasing" the flight attendant as the flight was boarding by repeatedly telling her to be careful with his bag because there was a bomb hidden inside. The flight attendant reported his comments to the pilot who immediately ordered all passengers off the plane and the flight canceled.

Passenger luggage sits on the ground Sunday after a bomb joke cause the flight to be canceled at Don Mueang Airport.
Pichit is the first person to be charged under a February law issued prohibiting a range of possibly unsafe actions, including using electronic device during takeoff and landing. Infractions are punishable by up to a fine of 20,000 baht.
President of Airports of Thailand Public Co. Ltd., Nitinai Sirismatthakarn, said Thai Lion Air is prepared to sue Pichit for a million baht in damages caused by canceling the flight.
Pilot Thammarot Chansawang, 33, has also said he would file a lawsuit against Pichit.
Thai Lion Air later provided a new flight for passengers Sunday evening, but five travelers had canceled their travel.
Pichit has been released on a 75,000-baht bond for the criminal complaint and faces the civil suits expected in the next six months.
Update: This story was updated to reflect Pichit being the first person charged under a new air safety law.