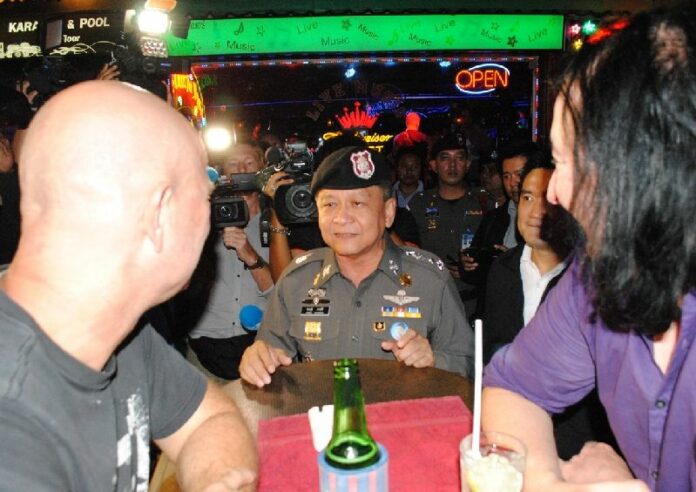 BANGKOK — Former national police spokesman Prawuth Thawornsiri has returned to Thailand but not shown up for duty, police chief Chakthip Chaijinda said today, saying it was up to the veteran officer whether to address rumors he might be under investigation.
Gen. Prawuth, who was reportedly on vacation in Europe when he was abruptly removed from his post Oct. 27, told his commander by phone that he arrived in Thailand this morning, Chakthip said. Prawuth now has 15 days to report back to work, or face expulsion from the police force entirely, according to Chakthip.
"If he misses work for more than 15 days, regulations allow his supervisor to expel him from the bureaucracy, like what happened to some police officers in the past," police chief Chakthip told reporters today.
Prawuth, a 59-year-old decorated officer with decades on the force, has not been seen in public since someone else was appointed to his position Tuesday, leading to speculation online he might be involved in an investigation of individuals exploiting their ties to the Royal Family.
"Where is Prawuth Thawornsiri" has been a trending topic in social media and in places such as the popular Pantip webforum.
"I heard he's gone to check his fortune with Mor Yong," wrote one commentator in the Pantip thread, referring to the name used by a fortune-teller arrested on a charge of lese majeste last month.
Three men – Suriyan "Mor Yong" Sujaritpalawong, Jirawong Watanathewasilp and Police Maj. Prakrom Warunprapha – were arrested Oct. 16 and charged with lese majeste (defaming the monarchy). The martial court ordered the trio into a military prison on Oct. 21 to await trial, but two nights later authorities said Prakrom was found hanged in his room.
Suriyan and Jirawong are facing trial in the martial court on a charge of lese majeste, which carries a maximum penalty of 15 years in prison per offense.
---
Famous Astrologer Among Accused 'Royal Imposters'
---
Prawuth has not been charged with any crime, and Chakthip last week dismissed speculation he was involved with the other three suspects.
"It's just a rumor," Chakthip said Oct. 27.
When a reporter asked Chakthip today whether Prawuth had heard of the rumors, the police chief said, "Yes, he has. But, eventually, it's all up to him. I believe that he is mature enough to decide what to do about [the rumor]."
Calls to a cell phone used by Prawuth found it to be disconnected today. Since appointed to the job October 2014, Prawuth became a daily media fixture due to high-profile investigations of a double-murder of two tourists on Koh Tao and the August bombing of Bangkok's Erawan Shrine.
According to police, Suriyan and his secretary, Jirawong, abused their positions as organizers of two mass cycling events to enrich themselves. The two government-sponsored events were initially conceived by the Crown Prince to honor his parents, Their Majesties the King and Queen.
Prawuth also worked as a committee member for both events. One of the two – Bike for Mom – was held in Bangkok on Aug. 16 while the other – Bike for Dad – is scheduled to be held on Dec. 11. Chakthip confirmed to reporters today that Prawuth is still one of the officials in charge of the latter event.
"As long as he still has not submitted his resignation, he still performs those duties," Chakthip said. "But if he does submit his resignation, there will be someone to replace him."
Like other lese majeste cases and issues involving the monarchy, the ongoing investigation has been conducted in secret. Media agencies have been told by authorities not to report anything other than official statements and authorized disclosures.
To reach us about this article or another matter, please contact us by e-mail at: [email protected].
Follow Khaosod English on
and
Twitter
for news, politics and more from Thailand.