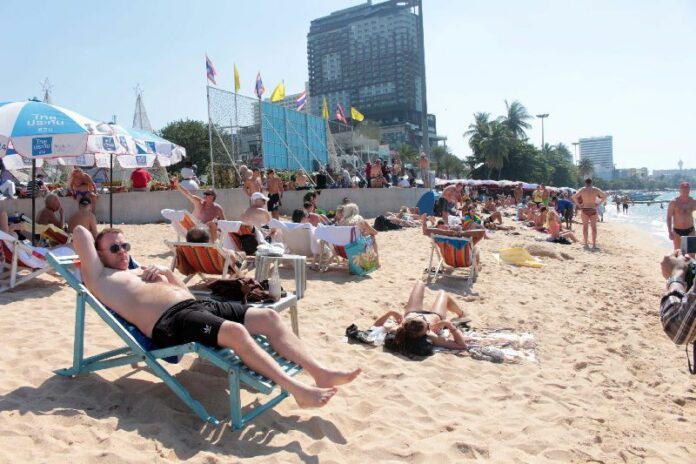 By Teeranai Charuvastra
Staff Reporter
PATTAYA — Two men from China were enjoying a seaside holiday near Pattaya last week when a local vendor selling leather bags approached them. The man made them a simple offer: buy his bags or get punched, so fearing for their lives – as they would later tell police – they paid 12,000 baht to buy the bags.
It's a scam familiar to those who know Pattaya. But in this case, police said it could be the Chinese tourists who played the scam.
According to the vendor, he never forced the tourists – 43-year-old Chen Lei and 45-year-old Xu Guangming – to buy his goods as the pair alleged. Police now believe the tourists made a false complaint to file an insurance claim – another practice that police say has become widespread in Pattaya.
"We believe it's a case of a false complaint," said Sukthat Pumpanmuang, commander of Pattaya City Police Station.
If true, it would be another type of racket to become somewhat common in a place with a reputation for scams. But instead of the usual complaints involving tourists getting shafted over jet skis, gems or taxi rides, it's the tourists running the scam.
The two tourists from China initially told police Tuesday night they fell victim to the extortion while visiting Koh Larn, a nearby island. They said the vendor forced them to buy four leather bags.
Col. Sukthat said police searched the island for the perpetrator, and on Thursday arrested a merchant who fit the victims' description. That man, 45-year-old Apicha Yenphukao, denied the accusation.
"He said he sold the bags to the tourists as normal. There was no intimidation," Sukthat said Friday by telephone. "And now we couldn't find the victims … We went to their hotel, but they already checked out. They're probably back in China by now."
Sukthat said his main reason for believing Apicha's version of events is because the tourists did not seek help until 10pm that night, 10 hours after they said the incident took place.
Claim Game
Travel insurance service bought by foreign tourists generally covers events of theft, but claimants need to supply a full police report as evidence.
There have been occasional cases of insurance fraud in Pattaya, a popular tourist destination well-known for its seedy nightlife and high rate of crimes against foreigners.
On Feb. 5, an Australian tourist said he was robbed there but later confessed to inventing the story to file an insurance claim, according to police reports. Four months later, a Filipino was arrested under the same circumstances.
"We have a lot of those cases. It's frequent," Sukthat said. "Sometimes we catch them red-handed. CCTV footage didn't show the crimes they claimed, so they confessed, and we arrested them right away and sent them to court."
Asked whether the number of false complaints makes police skeptical of foreigners who report robberies, commander Sukthat said their judgment isn't colored.
"No, we don't treat them all as suspicious," he said. "We investigate every complaint per normal procedure. We don't have any preconceptions."
Even more recently, on Wednesday, Pattaya police took in a Danish man who first claimed to have been robbed before admitting to making it up.
Police Col. Pramote Ngampradit said the Dane has been sent to stand trial for filing a false police report. It's difficult to find out what happens to such cases after charges have been filed: Pramote said he's unaware of the case's disposition, a staff member at the Pattaya Circuit Court said they could not divulge any information per regulations, and the Danish Embassy in Bangkok did not respond to a request for comment.
"But I think he would just enter a guilty plea and let the court case end, because it would be easy for him that way," Pramote said.
In at least one case, a British national who was initially charged with false complaint was later acquitted by the court. According to an interview with blogger Andrew Drummond, the Briton never made any false complaint, and police charged him with the crime out of language misunderstanding.