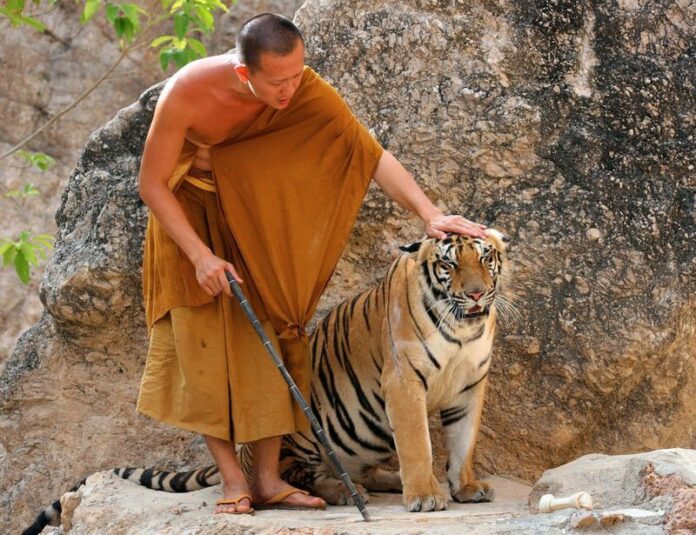 KANCHANABURI — The latest effort by wildlife authorities to remove tigers from a commercial temple west of Bangkok in Kanchanaburi province was stalled yet again today.
A day after wildlife protection officials reportedly moved to seize more than 100 tigers from Wat Pha Luang Ta Bua Yanasampanno, the short-lived operation was postponed Monday, pending "negotiation" with the influential temple abbot, a prominent animal rights activist said.
"The abbot said he wants to inspect the facility to accommodate the tigers first," said Edwin Wiek, founder of Wildlife Friends of Thailand, of the government animal center to which the tigers would be moved.
Sounding exasperated, Wiek added, "He's been delaying this again and again."
---
'Tiger Temple' to Give Up Big Cats, Activist Says
---
Saiyood Pengboonchoo, a lawyer for the Tiger Temple, said this afternoon the temple is willing to give up most of its tigers but declined to say when that will happen. He also said the temple will retain some of the wild animals and has applied for a permit to build a zoo to keep them.
Known to foreign tourists as the "Tiger Temple," Wat Pha Luang Ta Bua Yanasampanno, a monastery in Kanchanaburi province, has long been accused by animal rights activists of mistreating the tigers for commercial gain and even trafficking some of its animals.
Wiek told Khaosod English that his organization has been calling on the authorities to remove the tigers from the temple because of the increasingly crowded condition.
"The problem is overbreeding," Wiek said today over the phone. "They have too many cubs. Right now there are over 150 tigers. Some are missing, too. The national park must take action."
Since it began operating about 20 years ago, the temple went from having a few big cats and breeding them prolifically. It promotes itself as an spiritual conservation center protecting the animals. Tourists pay for the opportunity to pose for photographs with the tigers inside the temple, which even publishes its own magazine.
According to Wiek, the temple's operations violate CITES, an international treaty on wildlife to which Thailand is a signatory, which bans commercial breeding of protected wild animals such as tigers. The Tiger Temple currently charges for entry.
Last year, Thailand faced trade sanctions for failing to comply with its obligations under CITES for its ivory trade.
To comply with CITES, Wiek said the authorities must also have Tiger Temple administrators sign an agreement not to breed more tigers. "Otherwise, the rest of the tigers would just breed, and things will be the same again."
A reporter's calls to the Department of National Parks, Wildlife and Plant Conservation were referred to Wiek's organization.
All previous attempts to remove the tigers from Wat Pha Luang Ta Bua Yanasampanno have failed, including one in May last year. Wiek believes this is due to the influence wielded by the temple and its abbot, Phra Wisutthisarathen.
The activist said he heard that local wildlife authorities embarked on this most recent operation because they were ordered to do so by the new Minister of Natural Resource and Environment, Gen. Surasak Karnjanarat, who took office in August.
Asked whether he believes the operation next Monday will succeed in removing the tigers, Wiek was skeptical but determined.
"Well, this is Thailand. Anything can happen. But we insist the tigers must go. They must go next Monday, or the next Monday, or in the next life," he said.
Last April, pressure for the authorities to inspect and shut down the Tiger Temple was heightened after a former veterinarian alleged it had sold at least three of its big cats to buyers in Laos.
Asked about this allegation, Wiek insisted his organization has evidence to prove the transaction, but added that he's not aware of any new trafficking between the temple and alleged buyers since the news came up in April.
"The temple probably knows it's being watched from all sides," he said.
Additional reporting Chayanit Itthipongmaetee
Update: This story has been updated with a response from temple lawyer Saiyood Pengboonchoo.
Related stories:
Abbot of Infamous 'Tiger Temple' Attacked by Tiger
Thailand's Tiger Temple Ordered to Give up Tigers
Asian Black Bears Seized From Thailand's Tiger Temple