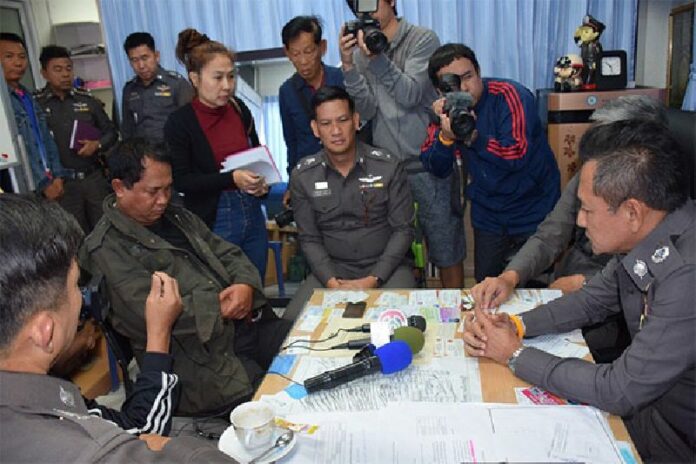 CHONBURI — A married police officer is accused of murdering his mistress, her boyfriend and her mother out of jealousy this morning in Chonburi's Phanat Nikhom district.
Sen. Sgt. Maj. Theerayut Phetjit allegedly shot 27-year-old Yupa Sara after finding her in bed with her rescue worker boyfriend Thiwa Mahaphol, 21. He killed both and then also shot to death the woman's mother, 50-year-old Somsong Sara.
Theerayut also riddled a newly purchased white Toyota parked in front of the house with bullets before fleeing the scene, police said.
He later turned himself into the Chonburi city police station. Police were first notified of the incident about 7am.
Police said he confessed to driving to see Yupa after his shift ended this morning. He said that after finding her in bed with Thiwa, he used his 9mm pistol to kill Thiwa and then Yupa before turning the gun on her mother, according to police Maj. Amphon Buarubporn.
In questioning, Theerayut told police he is married but had been seeing Yupa for four years. He financially supported Yupa and had bought her the new car, Amphon said. Yupa and Thiwa were believed to have begun a relationship last month, Amphon said.
Theerayut has been terminated from the police force and authorities have filed murder and weapons charges against him.