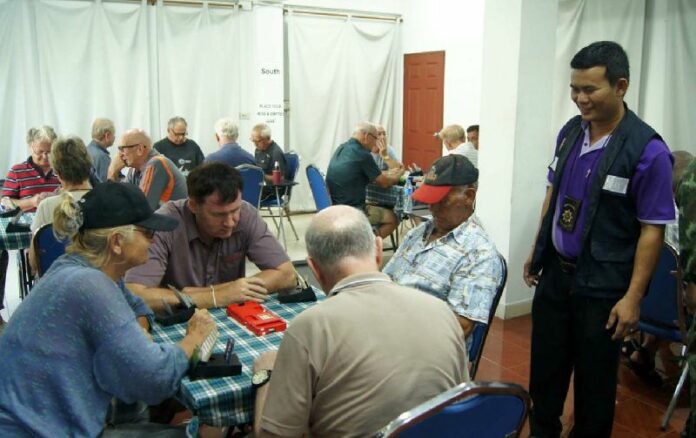 PATTAYA — Almost three dozen mostly elderly bridge-playing Westerners found themselves the surprise targets of a vice crackdown in Pattaya.
Police in Pattaya said they raided a game of 32 bridge playing foreigners afternoon Wednesday in an apartment above Alto's Restaurant and Bar after receiving a tip that there was illegal gambling taking place.
The bridge players, 26 men and 6 women, were senior citizens mainly from Britain but also from Scandinavia, the Netherlands and elsewhere. They were held until the early hours of Thursday morning, when they were released on bail of 5,000 baht each. Police said they would not be charged with gambling, but might be charged under a 73-year-old law limiting individuals to possession of 120 unregistered playing cards.
The officer said police didn't see money changing hands, but seized as evidence computers, decks of cards and a book with results of the bridge games. He said most of the players were in their 60s or older. The oldest is said to be an 84 year old lady.
The card players' plight was eased after the president of the Contract Bridge League of Thailand, Chodchoy Sophonpanich – a civic activist who is a member of Thailand's most prominent banking family – went to Pattaya on Thursday morning to advise police that bridge was treated under the law as a sport rather than gambling.
"Police know that bridge is a sport because a similar case happened before, but this time it was military and district officials who initiated the raid and they probably didn't know," said Chaiyut Assanaiyarat, the bridge league's manager.
Prime Minister Prayuth Chan-ocha, began a crackdown on gambling, especially at illegal casinos, soon after taking power as part of a broader anti-corruption campaign.
Story: Associated Press
To reach us about this article or another matter, please contact us by e-mail at: [email protected].