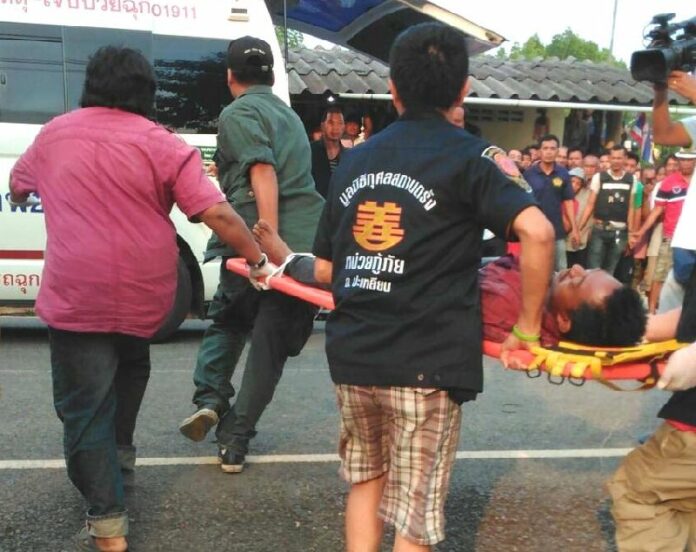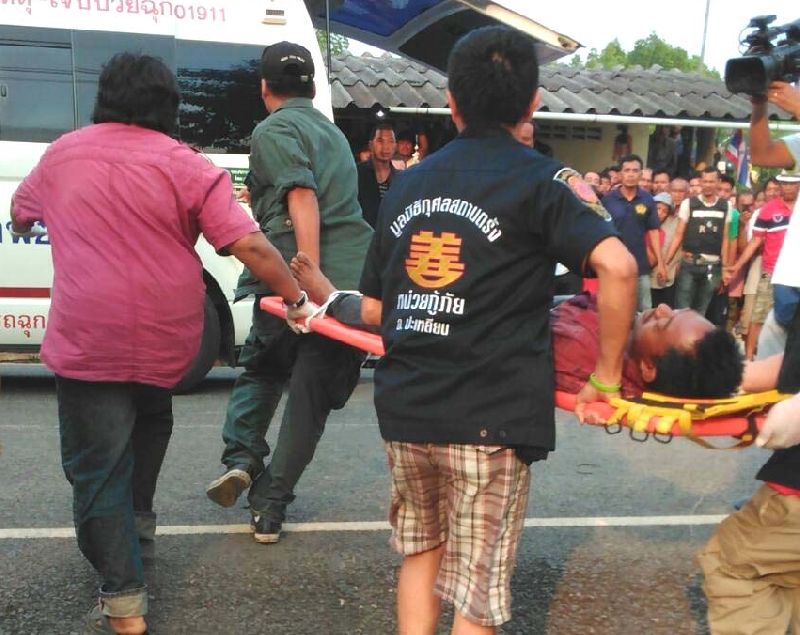 TRANG — A man believed to have shot his four children to death this early morning turned the same gun on himself late Monday afternoon as commandos stormed his home, police said.
Pornpichit Yongstar, 40, was taken to a hospital in serious condition with what police said was a self-inflicted gunshot wound to the head, hours after he allegedly killed his four children, two boys and two girls, with a .22 Magnum while they were sleeping. He was later pronounced dead at hospital around 6.30pm.
The motive was a family issue after Pornpichit's 38-year-old wife Supattra Kemkhao left him for another man, Col. Songkiat Thongsong of Palian district police said.
Officers had surrounded Pornpichit's home Monday after arriving at the scene in the morning to find him hiding alone in the house. He asked police to see Supattra, but police refused for fear he would harm her and himself, Songkiat said.
Police commandos prepare to storm the house of Pornpichit Yongstar late Monday afternoon
Officers earlier were able to remove the bodies of the children – boys aged 12 and 3, and girls aged 14 and 7 – from the second floor of the house. Pornpichit holed up in a room with a handgun and shotgun, police said.
About 20 police commandos stormed the home late Monday afternoon, at which point police said Pornpichit fatally shot himself.
Related Stories
Four Children Shot in Their Sleep By Father
Teeranai Charuvastra can be reached at [email protected] and @Teeranai_C.
Follow Khaosod English on Facebook and Twitter for news, politics and more from Thailand. To reach Khaosod English about this article or another matter, please contact us by e-mail at [email protected].