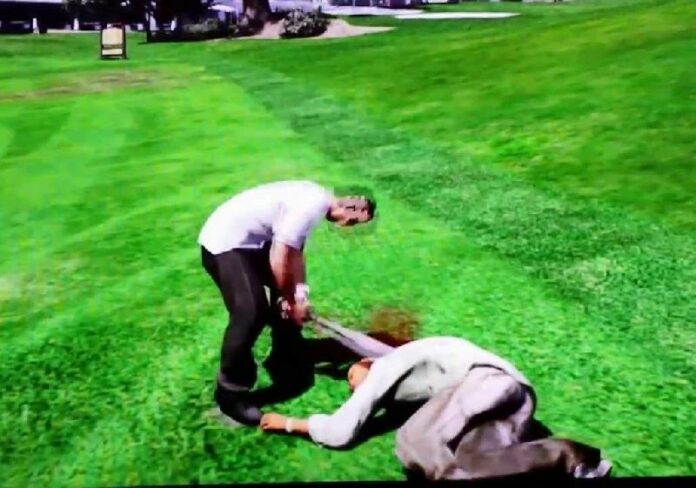 UDON THANI — Five youth claim they were imitating an infamously violent video game when they attacked three European retirees in Udon Thani on Wednesday, police said.
The five suspects – the youngest of whom is 13 – reportedly blamed their brutal assault of elderly men, one of whom is now in a coma after being attacked in a park, on Grand Theft Auto, though police said Thursday they are unconvinced by the explanation.
"They didn't steal any belongings. They said they were simply copying what they saw in a video game called 'GTA.' They were imitating it," said Maj. Gen. Peerapong Wongsaman, commander of Fourth Region Police.
Two German men, 70 and 74, filed complaints with Tourism Police on Wednesday that youths beat them with sticks as they walked in Nong Sim Park that afternoon, Peerapong said. One of the victims, 74-year-old Peter Sonntag, collapsed while talking to police and was sent to a hospital where he remains in a coma.
Later that night, a 67-year-old British national also sought help from police, alleging he was ambushed as he rode a motorcycle home and beaten with a helmet.
All three victims were identified by police as retirees living in Udon Thani.
Peerapong said over telephone that police inspected CCTV and found the same suspects were behind both incidents. The footage led to the arrests of the five suspects Thursday morning: a 17-year-old boy, two 15-year-old boys, a 14-year-old girl and a 13-year-old boy.
The suspects wouldn't be the first to blame the game for their actions ever since it became the poster child for video game violence by those who believe virtual representations of violence contributed to actual violent behavior.
GTA is an open-world video game that allows players to choose their actions freely, but in storylines pitting them on the wrong side of the law. The franchise allows players to do everything from the titular crime of stealing cars to graphically murdering innocents.
Western retirees point at their minor attackers Thursday at a police station in Udon Thani city.
Udon Thani police aren't ready to accept the suspects, described as coming from "broken families," were themselves victims of toxic media influence.
"During interrogation, they blamed each other for coming up with the idea. They said they just talked and came up with it, and they went along," Peerapong said. "They said they didn't think things through. But we don't believe them. They only targeted farangs."
Two of the victims showed up at the police station today and confirmed the identities of the five suspects, Peerapong told Khaosod English.
The police commander said the five will be placed in a detention facility for minors to await trial in juvenile court.
They have been charged with physical assault, but Peerapong said police will file an additional charge of grievous bodily harm if Sonntag's condition worsens.
Asked whether the assaults will hurt tourism in Udon Thani, Peerapong said people know that children do bad things everywhere.
"I don't think there will be any impact because even the farangs understood these are just kids. They didn't think about their actions," he said.
Related Stories:
German Man Brutally Attacked By 'Koh Tao Copycats'
Teeranai Charuvastra can be reached at [email protected] and @Teeranai_C.