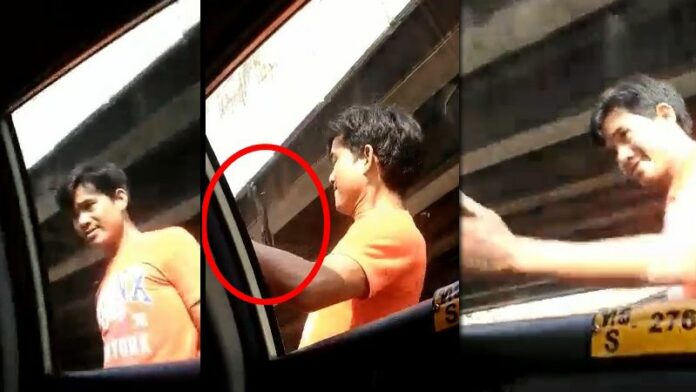 By Simon Duncan
Deputy Editor
BANGKOK — Two men riding a motorbike attacked a taxi with a passenger inside near the Queen Sirikit Center on Thursday afternoon in Bangkok.
Saeid Ghorbanipour, 45, an Iranian who runs a small trading company in Bangkok, told Khaosod English he was on his way home to see his wife and children at about 3:30pm on Rama III Road when two men approached the stopped car and attacked it with what appeared to be a a tire iron.
Ghorbanipour filmed the incident. In the video two men get off their motorbike and approach the taxi from the right side.They repeatedly strike the driver's side window and also damage the wing mirror.
One of the two attackers wore a motorcycle taxi vest. Nobody was injured and Ghorbanipour said he did not know why it happened. The two attackers left the scene. Ghorbanipour said he convinced the scared driver to go to the Thonglor police station where they filed a report.
He said this afternoon police had no update to the case.
Related Stories:
Road-Raging Van Driver Accused of Attacking Reporter with Knife
Drunken Motorist Attempts to Run Over Loei Governor
Angered By Parking Fine, Motorist Attacks Krabi Cop