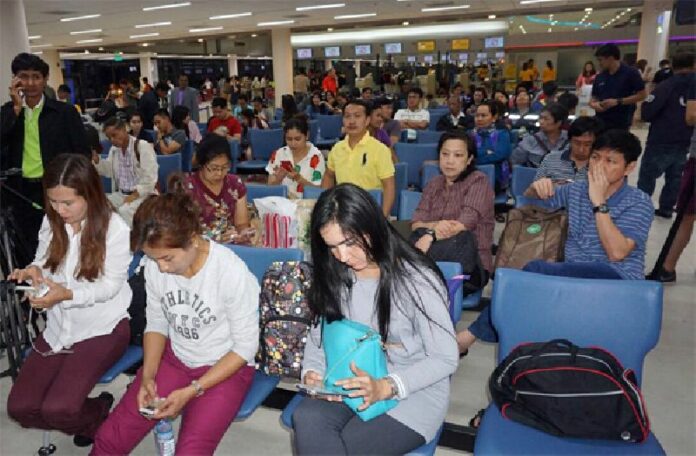 BANGKOK — Despite assurances Nok Air's downward course has been corrected from its CEO who recently unloaded millions of shares in the ailing airline, it sank further today with another 61 flights canceled.
The budget carrier issued letters of apology Friday signed by its CEO to passengers previously left stranded as another 61 flights were canceled, according to flight information from Don Mueang Airport.
Twenty-seven arrivals and 34 departure flights were canceled at the airport.
In his letter to affected passengers, CEO Patee Sarasin said the strike which disrupted the flights last month was an internal problem that came from the company's effort to upgrade its standards to comply with European Aviation Safety Agency, or EASA. Patee said it would never happen again.
Further trying to tamp down speculation the airline is imploding, Patee also issued a news release Friday indicating the airline has recruited new pilots to address its critical shortage. He insisted all passengers will be compensated.
Nok launched with high expectations for investors in 2013 but its share prices soon fell off in value. They are currently trading down slightly at 6.95 baht.
On Jan. 21, Patee reportedly sold 6 million shares of NOK when it hit 7.62 baht. No word of any investigation into the transaction has been announced.
Patee's handling of the crisis has been uneven. He was unavailable Feb. 14 when the original crisis left hundreds of passengers stranded, saying he'd been on a Valentine's Day trip with his wife. He then said he would not answer questions for a number of days thereafter before blaming the airline's poor performance on astrological misfortune.
Related stories:
17 Pilots Said to Quit Nok Air as More Flights Canceled
20 More Nok Air Flights to be Canceled
Nok Air Denies Flying Unqualified Trainee Pilots
Nok Air Punishes Employees After Strike Strands Hundreds
Nok Air to Compensate Passengers After Strike Leaves Hundreds Stranded
Thailand Sees Boom In Regional Air Travel
'Nok Air' Plane Finally Salvaged At Trang Airport