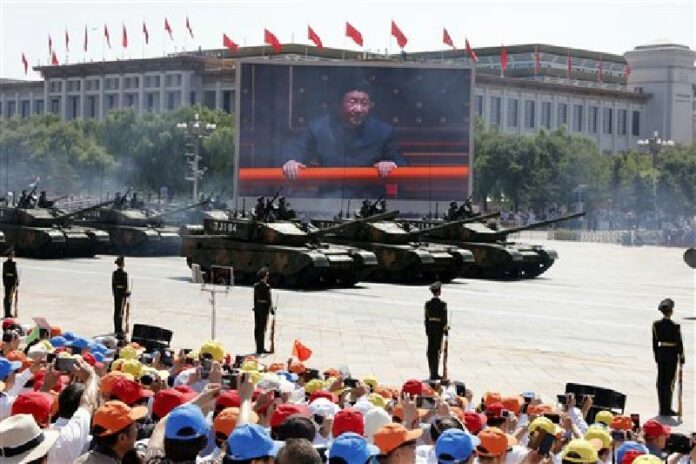 BEIJING — China said Friday it will boost defense spending by about 7 to 8 percent in 2016, the smallest increase in six years, reflecting slowing growth in the world's second-largest economy and a drawdown of 300,000 troops as Beijing seeks to build a more streamlined, modern military.
The People's Liberation Army, being trimmed to 2 million troops from 2.3 million, will still be the world's largest standing military. A robust armed forces remains a major priority for China's leaders who have pushed an increasingly aggressive campaign to assert territorial claims in the South China Sea and East China Sea, raising tensions with its neighbors.
Spending at all levels of China's government is being curbed because of a drop in the economic growth rate, which fell to a 25-year low of 7.3 percent in 2015 and is expected to decline further this year. For most years since 2000, China posted double-digit increases in military spending, and this will be only the third time in that period with a single-digit increase, including 2010's increase of 7.5 percent.
The lower increase is a reflection of the "new normal" of more moderate economic growth that President Xi Jinping has been touting for the past two years, said Alexander Neill, a senior fellow for Asia-Pacific security for the International Institute for Strategic Studies based in Singapore.
Still, such spending is "nothing to be sniffed at" in comparison with much smaller defense budgets in the developed economies, Neill said.
"It's reflective of China's determination to maintain a robust and modern fighting force," he said.
In announcing the approximate rate of increase, Fu Ying, the spokeswoman for the China's ceremonial legislature, National People's Congress, told reporters that China needs to consider its defense needs, economic development and the country's fiscal position in drafting the defense budget.
Chinese soldiers dressed as ushers march outside the Great Hall of the People in Beijing, Friday, March 4, 2016. Photo: Andy Wong / Associated Press
With last year's budget standing at USD$144 billion (5,103 billion baht), an increase of 7 to 8 percent would take defense spending for this year to between USD$154(5,458 billion baht) and USD$155 billion (5,593 billion baht)— still less than one-third of what the U.S. is proposing to spend this year. The exact figure will be revealed as part of the overall proposed national spending plan for 2016 to be presented at Saturday's opening of the NPC's annual two-week session.
The defense budget increased 10.1 percent last year, despite falling growth, raising concerns about whether such spending was sustainable.
China says its military is strictly for defensive purposes, but takes a broad view of what constitutes threats to its core interests — including protecting maritime territory that is in dispute with neighboring countries.
Its aggressive program of building islands on reefs and atolls in the South China Sea as part of its campaign to claim virtually the entire region has unnerved China's neighbors. Meanwhile, China continues a low-level campaign of confronting Japanese ships and aircraft near a set of contested East China Sea islands.
The modest size of the increase appeared to surprise many observers who had been expecting another double-digit increase in line with the military's higher profile
"I expected growth would be between 12 and 15 percent," said Ni Lexiong, a military expert at Shanghai's University of Political Science and Law, adding that any figure below 10 percent would likely "be not enough" to meet the PLA's modernization goals.
Ni said the lower figure was likely due to both China's current economic realities and a desire to be seen as working for peace and stability in its immediate environment, despite ongoing feuds with its Southeast Asian neighbors, the U.S. and Japan, with which it has sparred over an unoccupied island chain in the East China Sea that Japan controls but which Beijing claims.
The smaller increase comes as China is shifting more resources away from its massive land army and toward the navy and air force, along with cyber warfare and the missile corps.
Along with the structural changes it is undergoing, the PLA says pay raises are constantly needed to compete with the private sector to attract and retain educated personnel qualified to operate high-tech weaponry and computer systems.
In this Thursday, Sept. 3, 2015 file photo, Chinese soldiers take part in a parade commemorating the 70th anniversary of Japan's surrender during World War II in front of Tiananmen Gate in Beijing. Photo: Ng Han Guan / Associated Press
China provides no breakdown of its defense budget and Pentagon and global arms bodies estimate actual military spending may be anywhere from 40 to 50 percent more because the official budget doesn't include the costs of high-tech weapons imports, research and development, and other programs.
"The official numbers … on the Chinese defense budget are pure fiction. They are meant to give a false sense of certainty where there is none," said Ian Easton, research fellow at The Project 2049 Institute, an Arlington, Virginia-based Asian security think tank.
With inflation running at under 3 percent this year, the spending jump may actually be bigger in real terms than during the last decade when budget increases rose as high as 17.7 percent, but inflation also topped 8 percent at times.
The PLA's traditional mandate had been to guard China's borders and prepare for contingencies involving Taiwan, the self-governing island that Beijing has pledged to take control of, by force if necessary.
Newer missions, including U.N. peacekeeping operations, are now taking China's military much further afield, possibly even overseas on anti-terrorism missions as mandated by a new law.
Meanwhile, China's Asia-Pacific neighbors are responding with their own increased military spending.
Japan has already passed a record-high defense budget for 2016 of USD$41.4 billion (1,467 billion baht), the second annual increase following 11 years of declines prior to hawkish Prime Minister Shinzo Abe's rise to power in 2012. Planes and naval vessels to counter China's growing capabilities top the Japanese military's shopping list.
India is spending big. New Delhi has expressed concern not only about its disputed land border with China high in the Himalayas, but also about the Chinese navy's growing presence in the Indian Ocean.
Vietnam, which almost alone among the South China Sea disputants has confronted China openly, has roughly tripled its defense spending since 2009, adding advanced new equipment such as Kilo-class submarines from Russia.
At USD$598.5 billion (21,211 billion baht) last year, U.S. defense spending far outstrips all other nations, although it comes against a background of anticipated flat or falling defense budgets in coming years. The omnibus appropriations measure passed by Congress in December calls for USD$573 billion (20,307 billion baht) for defense operations in 2016 and another USD$163 billion (5,777 billion baht) for Veterans Affairs Department programs.
Regarding the U.S., China should be in excellent position to capitalize politically on the slower growth in defense spending, Neill said, especially when the U.S. raises its usual complaints about a lack of transparency in the Chinese system.
"China can come back and say, 'we've significantly cut spending," he said. "It's quite a shrewd move, really."
Story: Christopher Booden / Associated Press