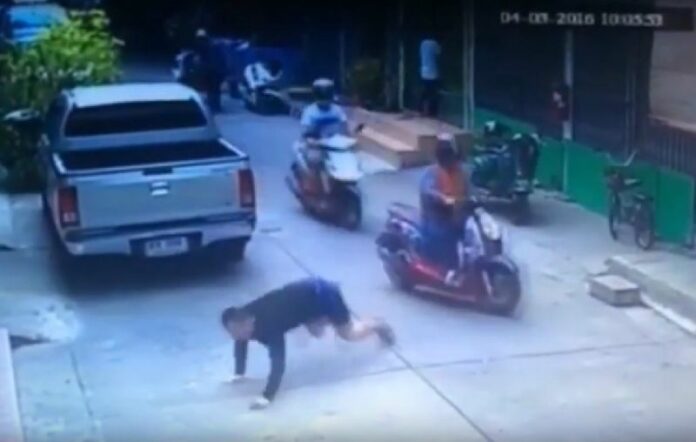 BANGKOK — One of three men shot trying to hold up a gun shop with BB guns and knives this morning near Chinatown died at a hospital Friday afternoon as footage emerged of the fourth suspect being captured.
Xingjun Wu, 39, was pronounced dead by police as another suspect, 34-year-old Geng Ma, told police via a translator his gang entered Thailand on Saturday on orders from their boss to steal guns. He said they hailed from Harbin, a city in China's wintry, northernmost province of Heilongjiang and traveled from there to Bangkok.
Police say their boss is a man named Yang Zheng, who has now fled Bangkok.
Meanwhile CCTV footage captured the moment a pair of motorbike vigilantes intervened to prevent the escape of the man not shot in the bungled robbery.
In the video, the suspect runs through a narrow soi with a motorcycle taxi operator in close pursuit. The motosai knocks him down with two-wheel vehicle, at which point the man is almost bitten by a small black dog. He then continues to scamper away as another motorcyclist and the dog give pursuit.
He was later apprehended by police at Soi Sirichai 1 later in the morning, according to Lt. Col. Somkasem Jarak of the Samranrat police station.
The poorly thought-out heist was attempted at around 10am. Four Chinese-speaking men, including two others identified by passports as Junwei Sun and Kunpeng Li, went into Interarms Ltd. Partnership on Charoen Krung Road armed with BB guns and knives.
The owner and staff of the shop opened fire with real guns, but were stabbed in the resulting melee. They are being treated for their injuries.
Update: This story has been updated with names of all five suspects.
Related stories
Five Injured After Attempted Robbery at Chinatown Gun Shop