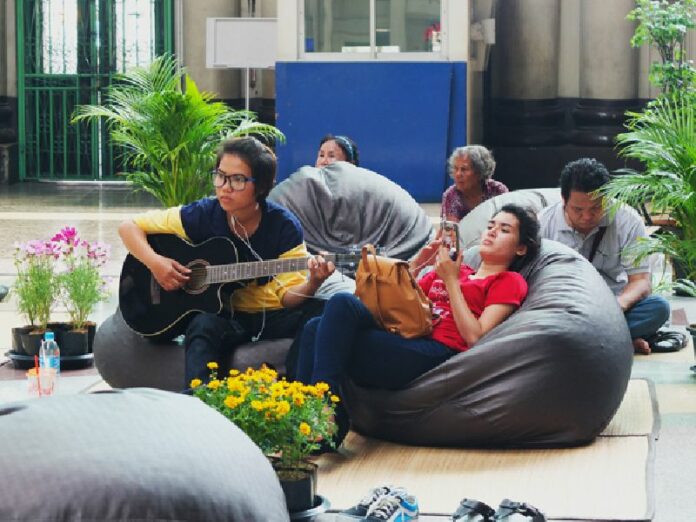 BANGKOK — Though passengers and people pile up like luggage inside Bangkok's Railway Station Hua Lamphong, a group of architects noticed its waiting hall was not designed for them.
So the group of professional and student architects, along with a few studying political science, moved in to occupy the capital city's most iconic transit structure this past week to open a discussion on public space, which they believe should be usable by all.
They placed straw mats, beanbags and plants in the terminal's main hall for their social experiment to see how they could change the space's relationship and utility for those passing through.
Hua Lamphong, which celebrates its centennial this year, was the first target for their project called Ten for Ninety, a name which reflects the change they want to see in the percentage of people their profession serves.

On a given day, dozens of humans can be found sitting, squatting and lying on the terminal floor. Some are travelers with bags waiting for delayed trains. Some are homeless and shelter in the structure at night.
"As we started collecting information, we found that Hua Lamphong is not only a place for those waiting for the train," said project advisor Supitcha Tovivich, a Silpakorn University instructor. "But also the janitors, homeless and those from the countryside who stay here while waiting for job opportunities in the city."
While the railway station provides a number of chairs, the group thought their inflexible design made for poor social interaction and did not make efficient use of the space.
"The space between each row of chairs is very narrow, and people tend to sit on the outer chair first," said Pat Likitswat, a recent architecture graduate. "So it is not comfortable for people who come later to walk past them to the inner chairs. The space then, in their eyes, is already full."
The group blended different styles to furnish the area. They laid out traditional mats for country sensibilities and beanbags for the urban middle class.
Then they stepped back and watched to see if the layout made for a more flexible space for people to interact. It worked.
People took seats. They talked. Some played chess and card games, something normally difficult on the terminal's fixed chairs.
"Gradually, it eliminates the former boundaries," Supitcha said. "We saw a beanbag with foreigners sleeping on one side while the other side was shared by a homeless person."
They weren't trying to come up with an absolute decision. The most important thing about public space usually neglected in Thailand is that it should treat everyone equally.
Stop by and check it out; the experiment continues through Sunday.
The project Ten for Ninety was initiated by the committee of community architects under the Association of Siamese Architects under Royal Patronage. It aims to encourage architects to spend their spare time designing for the 90 percent of the population who either don't have access to design, or who are not considered by it.
The group is considering whether to take the project to other spaces.