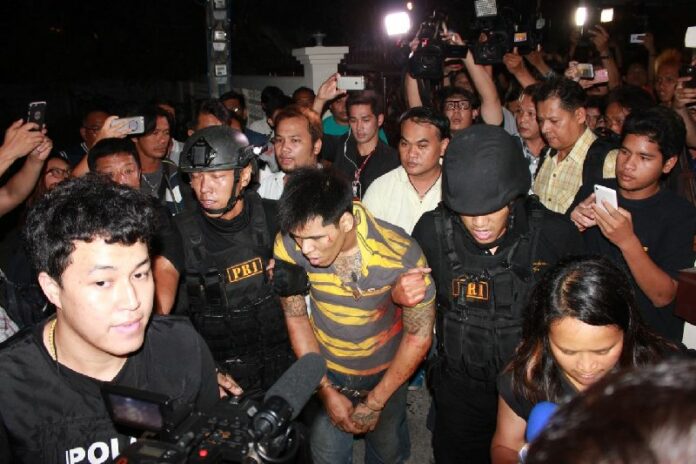 PATHUM THANI — A nearly seven-hour search for a gunman who opened fire on officers after fleeing a checkpoint ended last night when police cornered the suspect in a wooded area.
Suspect Roongroj Suaprang was caught at about 10:30pm behind Moo Ban Suan Kaset Village on Khlong 5 Road with a bullet wound in his left arm from the shootout with police earlier in the afternoon in the same area. He was treated for his wound before being taken to the Thanyaburi Police Station.
Roongroj, 27, reportedly confessed that he was driving back from seeing a friend locked up on a drug-related conviction at a prison in the area. On the way to his home in Nonthaburi province, police said, Roongroj came across the checkpoint and decided to run it due to the presence of a gun and drugs in his car.
Roongroj has been charged with attempted murder for opening fire on officers who attempted to shoot his tire out, police Col. Sunthorn Himarat said by phone Tuesday morning. Two officers were wounded in the exchange, as was a woman inside Roongroj's vehicle. All three survived. Roongroj was also charged with possession of a firearm and drugs.
Police will look for more evidence including drugs when they search his Nonthaburi home Tuesday afternoon, Sunthorn said.
Related stories
3 Shot When Police Stop Turns Into Gun Battle North of Bangkok (Video)
Chayanit Itthipongmaetee can be reached at[email protected] and @chayaniti92.