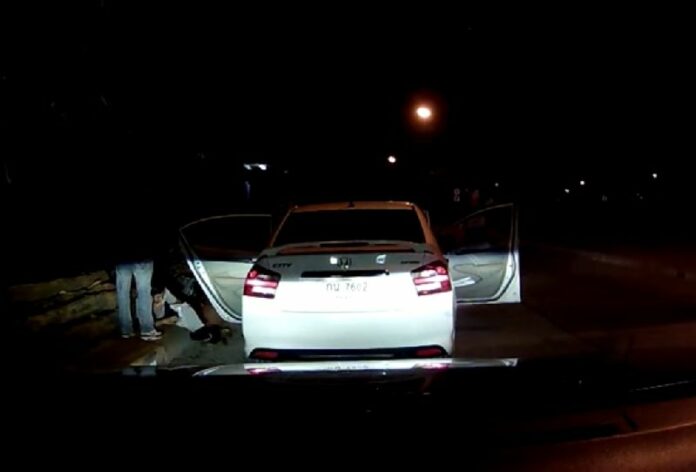 PHITSANULOK — Three policemen were placed under criminal investigation yesterday for allegedly threatening a group of university students at gunpoint and beating them on the side of a road in Phitsanulok province.
The three officers, all provincial police investigators, were also sent to "inactive posts," as they face legal prosecution, said Phitsanulok City Police Station commander Saranai Kongmuang.
They are identified as Sgt. Subin Nuekkham, Cpt. Wutthipat Bua-urai and Lt. Cpt. Thanakarn Chaipipat.
"We will not help them. We will be fair in this case," Saranai said over telephone Thursday. "We are afraid that society will distrust us."
The incident, which took place around midnight on March 18, only came to light Wednesday when the five students from Pibulsongkram Rajabhat University filed a complaint with the provincial police, urging them to speed up the investigation.
Kicked, Punched, Pistol-Whipped
One of the students, Chaithawat Thamrongsakdikhun, said he was driving his friends that Friday night when a car nearly crashed into them. Chaithawat said he honked his horn in warning, at which point the other motorist responded by giving pursuit and firing shots at him.
Chaithawat said a bullet eventually hit his tire and forced him to stop. The pursuing motorist ordered them out of the the vehicle at gunpoint, then assaulted them, the student said. The driver was later identified as Sgt. Subin.
Subin insists the incident was provoked by Chaithawat intentionally clipping his car, provoking his anger.
Subin phoned two more men – Cpt. Wutthipat and Lt. Cpt. Thanakarn – to join him, and together they beat the victims with their fists and a pistol, Chaithawat said. One female student was spared from the assault, but only because another student shielded her from the violence, Chaithawat said.
The three men eventually left the scene after a police patrol saw the incident and told them to stop, according to Chaithawat, who said the patrol officers made no effort to detain the assailants.
The assault left some of the students with serious injuries.
Chaithawat was allegedly pistol-whipped and kicked in the head, neck and torso. Siriwat Khumthat said he was kicked twice in his face. Thanapol Kong-Iew was reportedly stomped on the back of his neck. Tharathep Saengpirun was kicked in his torso and slapped with shoes on his neck as he tried to protect Kamolchanok Klamthep, the female student, according to the complaint.
Col. Naruecha Suwannalapha, deputy commander of the regional police force, talked to the five students on Wednesday.
The ordeal was captured on video by another vehicle's dashboard camera as its driver happened upon the scene. Charoenkiat Saediew, 30, said he tried to intervene but one of the assailants pointed a gun at him and told him to stay away.
"I'm ready to be a witness for these students," Charoenkiat said as he accompanied the five students to the provincial police headquarters Wednesday.
Col. Naruecha Suwannalapha, deputy commander of the regional police force, assured the students that he would take the case seriously.
"We didn't know about this," Naruecha said as he accepted the students' petition. "But I insist that we will be fair to all sides. Do not worry."
The three suspects – Subin, Wutthipat and Thanakarn – have been charged with assault, said Col. Saranai, the head of Phitsanulok Police Station, with more serious charges being considered based on a medical examination of the severity of the students' wounds. They also face suspension while the matter moves forward.
"If we find that they gravely violate their duty or acted in a thuggish way … we will suspend them while the inquiry is underway," Saranai said.
Teeranai Charuvastra can be reached at[email protected] and @Teeranai_C.