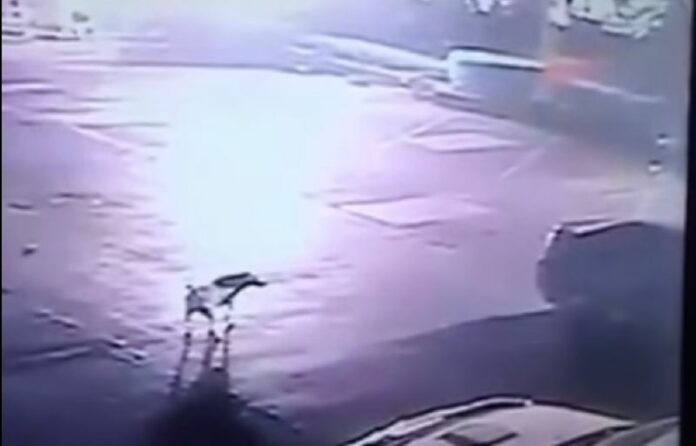 BANGKOK — A Bangkok man was yesterday sentenced to 14 months in prison for shooting dead a stray dog last year but is unlikely to serve any jail time.
Wicha Boonluelak's sentence on animal cruelty and firearm charges was suspended Thursday by the court on the condition he participates in community service. Wicha confessed to stopping his car and killing the female dog because she often chased vehicles driving through the area.
"I did it out of anger," Wicha told reporters outside the criminal court. "I'd like to apologize to society for what happened, and I'm willing to improve myself and to engage in community service as the court decreed."
Wicha was arrested in January 2015 and identified as the gunman who killed a 9-year-old dog named Sue Bue on Lat Phrao Road on Jan. 13. CCTV footage showed a pack of dogs chasing after a car before the motorist stopped the vehicle to fire a handgun at the group.
The bullets struck Sue Bue in her haunches, paralysing her before she died of blood loss, the prosecutor's briefing said.
A local woman filed a charge of animal cruelty against Wicha. Panita Sunthornrat said at the time she often fed the dogs and saw herself as the pack's guardian. Under the animal welfare law passed in late 2014, anyone can file charges on an animal's behalf.
In Thursday's verdict, the court found Wicha guilty of animal cruelty as well as illegal possession and discharge of a firearm.
In total, Wicha received a jail term of 14 months, but the court suspended the sentence out of leniency, as Wicha pled guilty and had no prior record. He was instructed to do 12 hours community service and report in to correctional officers four times.
Wicha Boonluelak speaks to reporters at the courthouse on Thursday.
Panita said she was satisfied.
"It will be a lesson to society," Panita told reporters. "And in the year that passed in the case, I think Mr. Wicha learned his lesson."
She said it should help people think twice before unnecessarily harming an animal.
"I'd like to tell the society and those who think about abusing animals that it's illegal. Disciplining animals with appropriate and small measures is not a problem, but a punishment that kills the animals is certainly excessive."
Related stories:
Pheu Thai Politico Insists He Shot Dog in Self-Defense
Man Arrested For Driving Snowmobile Into Two Iditarod Dog Teams
Teeranai Charuvastra can be reached at [email protected] and @Teeranai_C.