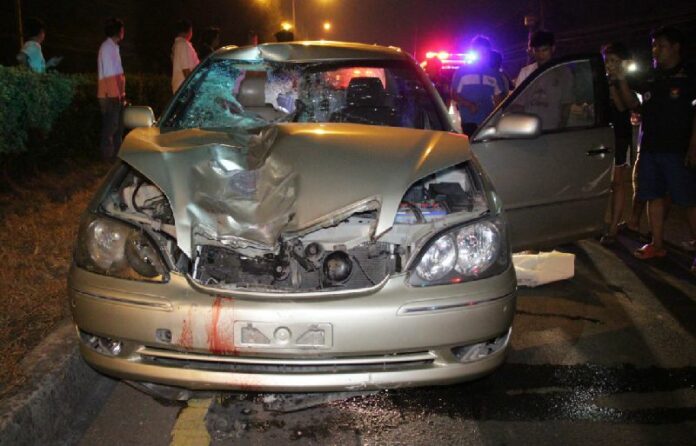 PRACHINBURI — A soldier moonlighting as a cigarette smuggler hit and killed a man crossing a street last night while escaping customs officers in a car in Prachinburi city.
Army 2nd Lt. Narong Srisak was speeding when he hit Chiad Plengplangsri, who was walking across the road Thursday night at the Nong Cha-Om Fruit Market intersection. Narong hit Chiad so hard that his body was cut in half, with some of his remains ending up inside the vehicle. Two of his legs were found in the road.
Narong, 61, told police that he was driving from Rong Kluea Market border market in Sa Kaeo province. When he arrived at Prachinburi's Prachantakham district, customs and excise officers gave pursuit, so he sped away in a bid to escape.
A witness told police that 59-year-old Chiad had just finished a meal and was crossing the road when Narong hit him.
Police searched Narong's car and found six boxes containing cartons of smuggled cigarettes, some from Cambodia, according to Lt.Col. Worawut Suwanwik of Prachinburi Police Station.
Narong, whose left arm was broken in the incident, was taken to Chao Phraya Abhaibhubet Hospital.
He's been charged with possession of illegal tobacco products and fatal reckless driving, Worawut said.
Chayanit Itthipongmaetee can be reached at[email protected] and @chayaniti92.