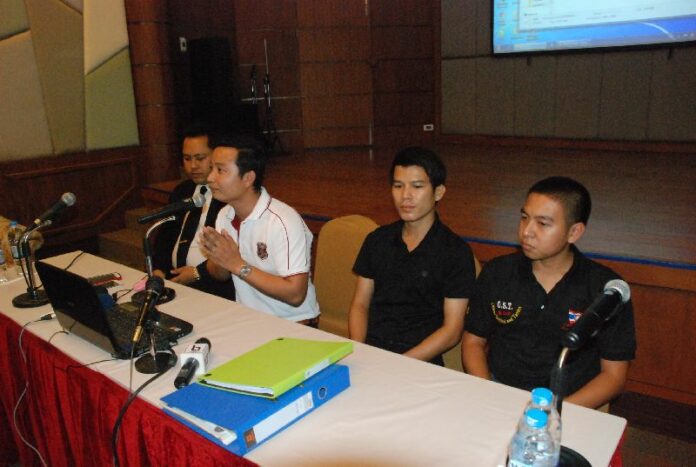 By Teeranai Charuvastra
Staff Reporter
PHITSANULOK — Three disgraced police officers said they shot at a car full of university students before hauling them out and assaulting them two weeks ago because they suspected the students were criminals.
The officers spoke to the public for the first time Wednesday since the incident in Phitsanulok province, which prompted the regional police force to expel the three men while a criminal investigation against them was being conducted.
---
Undercover Cops Accused of Beating, Pistol-Whipping Students (Video)
---
With their lawyer present, Sgt. Subin Nuekkham, Cpt. Wutthipat Bua-urai and Lt. Cpt. Thanakarn Chaipipat gave their side of the story of what happened at a hotel news conference.
Speaking on behalf of his colleagues, Subin did not dispute the accounts of what happened on the night of March 18, when he and two other officers reportedly gave chase to five university students and fired a handgun at their car, disabling one of its tires. The three officers then forced all five students out of the vehicle and assaulted them, according to the students.
After the case came to light, the police charged Subin, Wutthipat and Thanakarn with six offenses, including attempted murder, and expelled them from the service.
But Subin said he and his colleagues did all the things they were accused of only because the student driver, Chaithawat Thamrongsakdikhun, clipped his car first and refused to stop and take responsibility. Subin said Chaithawat then sped away from the scene, raising his suspicion the driver might have been a criminal on the run.
"As a professional police officer, my instinct made me question why that vehicle did not stop and allow me to inspect it," Subin said. "Furthermore, that car did not have a license plate, and it was modified like a racing car, so I had to gauge the situation that the vehicle might have been involved in wrongdoing or possessed illegal things, so I decided to do everything I could to stop the vehicle."
Even if it meant shooting at the car, Subin said, though he insisted that he only aimed his handgun at the car's tire as he had no intention of harming the students.
"I'd like to insist that I fired the shots according to a SWAT course that I participated in," he said. "Therefore, I'd like to dispute the allegation of attempted murder, because if I intended to kill someone or shoot at someone, I would have shot at the car window."
Subin also admitted to assaulting the students with his two colleagues after they were forced out of their car, but said he did so because he felt "pressured" from his pursuit.
Subin added that he and other two officers have tried to express their apology to the five students for the ordeal, but the students declined the offer.
"I admit to my wrongdoing and after what happened I tried to ask for a meeting with the victims, I visited the victims at hospital, and I offered my apology to the victims and their family and offered to pay the medical bills, but I was repeatedly denied," Subin told reporters.
The three expelled officers said they will only plead guilty to physical assault in court and contest all other charges.
Teeranai Charuvastra can be reached at [email protected] and @Teeranai_C.