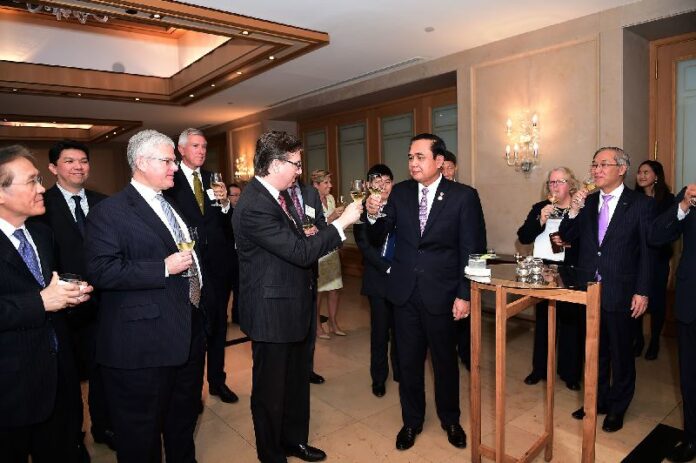 WASHINGTON — A number of Asia-Pacific leaders are traveling to Washington for this week's nuclear security summit. They will be discussing how to stop terrorists from making an atomic explosive or dirty bomb, amid concern that the Islamic State group aspires to such a weapon. It is also a chance to discuss other issues and burnish their international standing.
Here's a look at the presidents and prime ministers and what will be on their national agendas. Other governments from the region are sending lower-level officials.
Thailand
The nuclear summit is the second opportunity in six weeks for Prime Minister Prayuth Chan-ocha to make an official visit to the U.S. after Obama met Southeast Asian leaders in California. A regular bilateral trip to Washington isn't in the cards. Prayuth took power in a 2014 coup, which led to a downgrading in ties between the U.S. and its oldest Asian ally, and it's unclear when civilian rule will return. Prayuth will, however, be hosted for dinner by U.S. business leaders.
China
President Xi Jinping was in Washington just six months ago for a state visit. China has the world's fastest-growing civilian nuclear industry and is keen to showcase its efforts on nuclear security, an example of fruitful cooperation with the U.S. But there will be thorny issues on the agenda when Xi meets separately with President Barack Obama. They will discuss next steps with North Korea after the imposition of the toughest international sanctions yet over its nuclear and missile development, and the growing tensions in the South China Sea where Beijing's island-building is roiling its relations with Washington.
India
Since Prime Minister Narendra Modi took power after a convincing election victory in 2014, strained U.S.-India relations have improved. The summit is an opportunity to build on that progress and signal that India, anuclear weapons state which has not signed the Nuclear Non-Proliferation Treaty, is engaged on nuclear security as it expands its atomic energy sector. There's no prospect for reconciliatory talks with archrival Pakistan because its prime minister canceled his Washington trip because of a terrorist attack at home.
Japan
Prime Minister Shinzo Abe will participate in a summit with South Korea's leader and Obama. That's the latest chapter in a U.S.-supported effort to mend fences between its core Asian allies after a landmark December agreement aimed at reconciling over the Japanese military's use of sex slaves during World War II. They will discuss how to advance security cooperation and face the threat from common foe North Korea. While Japan is adamantly opposed to nuclear weapons, it could face concerns over its stockpile of separated plutonium from its energy program, still largely in shutdown following the 2011 Fukushima nuclear disaster.
Singapore
As a close partner of the U.S., Prime Minister Lee Hsien Loong is a frequent visitor. He arrived early to meet with industry and financial sector leaders in New York. In Washington, he's also meeting with Federal Reserve Chair Janet Yellen. Singapore is a financial hub and will be watching closely as the Fed considers a hike in interest rates, which could have a significant impact on the world economy.
South Korea
In addition to the U.S.-Japan-South Korea meeting, President Park Geun-hye is set to meet Xi, a sign of deepening ties with China as their economic bonds have grown, and as Beijing's alienation from its traditional ally North Korea has grown. Park's visit comes as threats from the North have reached a fever pitch in response to larger-than-usual, annual U.S.-South Korean military drills that the North regards as a preparation for invasion.
New Zealand
Prime Minister John Key will meet with top U.S. economic officials, including Yellen and Treasury Secretary Jacob Lew, to discuss the Trans-Pacific Partnership trade pact and other issues. New Zealand is one of 12 participating countries and hosted the signing of the pact in February. The deal is the main economic plank of Obama's Asia policy, but uncertainty remains about whether Congress will ratify it.
Story: Associated Press