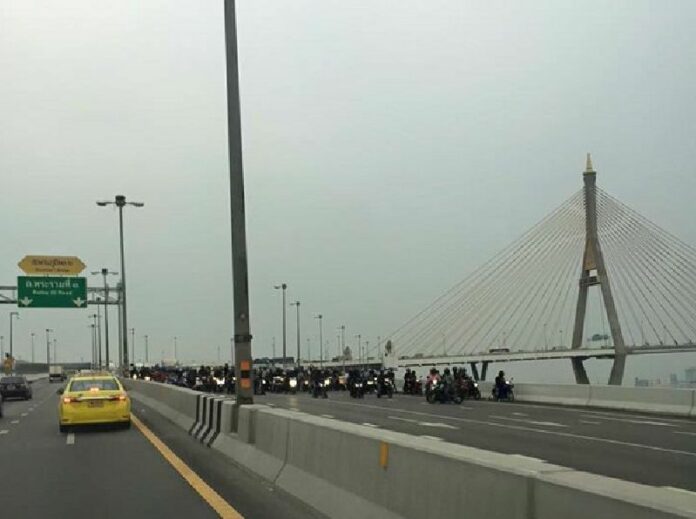 BANGKOK — Hundreds gathered on Bhumibol Bridge yesterday evening for a two-wheel protest against a new ban on riding across the bridge and dozens of other spans in the capital.
In photos and videos shared online Thursday night, the event was described as a protest against a ban keeping them off a number of flyovers and underpasses around Bangkok. Many said it effectively prevented them from crossing the Chao Phraya River.
Police denied any such act of civil disobedience occurred, saying the cyclists assembled there only because they were afraid of being fined at a police checkpoint on the other side of the bridge.
"They saw a checkpoint, and they knew what they were doing was illegal," said police Maj. Porameth Tangjitsamathi of the Phra Pradaeng Police Station. "So they waited on the bridge and rode down when we stopped checking."
Poremeth said the group only gathered in the lane heading from Rama III Road to Phra Pradaeng for 15 minutes at 6pm. He believed there was about a thousand motorcycles.
Under the order issued Wednesday by the Metropolitan Police Bureau, motorcycles, bicycles and tuk-tuks cannot use the 39 flyovers and six underpasses in Bangkok which lack a lane for slower vehicles, such as Bhumibol Bridge.
Deputy Metropolitan police chief Maj. Gen. Adul Narongsak said the ban is aimed at relieving congestion from accidents. Those who violate it will be fined 500 baht to 1,000 baht, he said.
Poremeth said Bhumibol Bridge was higher than a lot of other bridges, as it was built to accommodate cargo ships. Because of its height, strong winds often cause motorcyclists to lose control.
"Every time there is an accident involving motorcycles on the bridge, they are always severely injured," he said.
He suggested those on two wheels use the ferry service under the bridge to get across, though he admitted there are probably not enough ferries in service to meet demand.
Clip and photos posted online Thursday also showed a long line of motorcycles queued for the ferry.
"I would love to be another voice asking for justice, equality and good enough reasons," wrote Facebook user Torpong Uttarapong in the We Love Checkpoint group on Facebook.
Some said their livelihoods are affected.
"I am riding my motorcycle to deliver food" wrote another user Karn Dumrongtakulkij. "But I think we should have gathered at the Royal Thai Police Office rather than shutting down the bridge and making trouble for others."