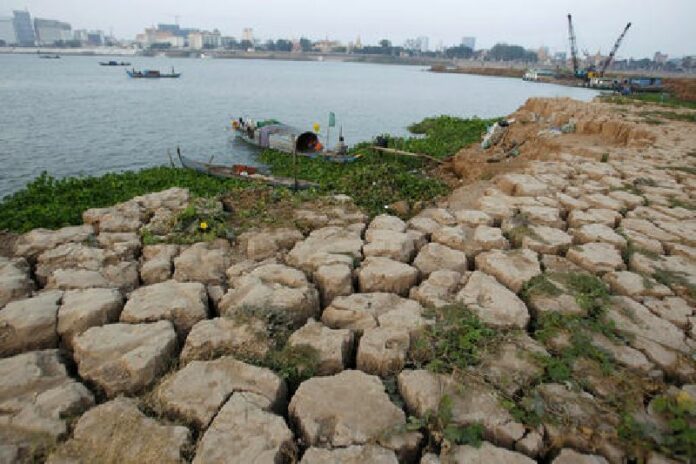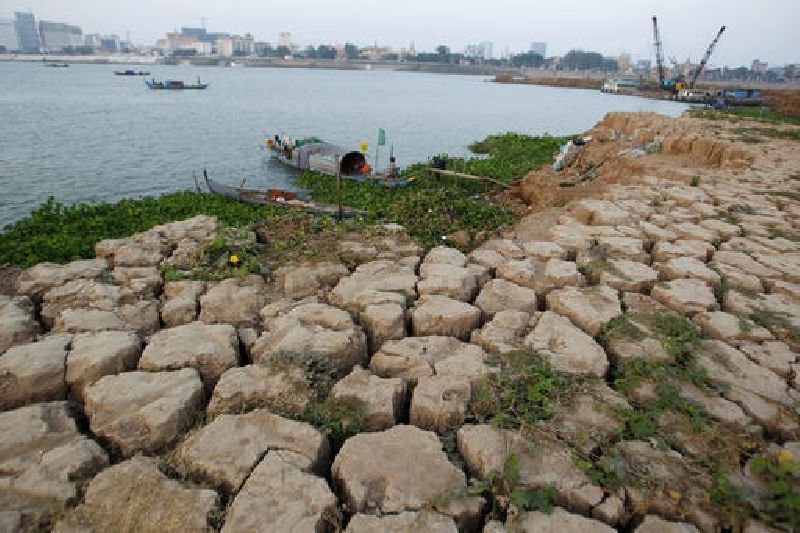 HANOI, Vietnam — As China opened one of its six dams on the upper Mekong River last month to help parched Southeast Asian countries down river cope with a record drought, it was hailed as benevolent water diplomacy.
But to critics of hydroelectric dams built on the Mekong over the concerns of governments and activists, it was the self-serving act of a country that, along with hydropower-exporting Laos, has helped worsen the region's water and environmental problems.
Much of Southeast Asia is suffering its worst drought in 20 or more years. Tens of millions of people in the region are affected by the low level of the Mekong, a rice-bowl-sustaining river system that flows into Laos, Thailand, Cambodia and Vietnam. Fresh water is running short for hundreds of thousands of people in Vietnam and Cambodia, and reduced water for irrigation has hurt agriculture, particularly rice growing in Thailand, where land under cultivation is being cut significantly this year.
Vietnam estimates that 400,000 hectares (1,500 square miles) have been affected by saltwater intrusion, with some 166,000 hectares (640 square miles) rendered infertile. The affected land accounts for nearly 10 percent of the country's paddy cultivation area in the Mekong Delta, its main rice-growing region.
The water level in the Tonle Sap river as it passes the royal palace in Cambodia's capital, Phnom Penh, has fallen to a 50-year low.
In this March 25, 2016 photo, Cambodian Buddhist monks walk through dried earth near pagoda at Trapang Chhouk village in the outskirts of Phnom Penh, Cambodia.Photo: Heng Sinith / Associated Press
Fingers are mainly pointed at the El Nino climate phenomenon, which produces drier and hotter-than-usual weather globally. But environmentalists and some officials say the situation is worsened by the 10 dams on the Mekong's mainstream built over the past two decades, at least partly because they reduce rainy-season flooding and trap sediments, making the downstream delta more vulnerable to seawater intrusion.
"I've lost all my investment. My family was left with nothing," said Thach Tai, a farmer from Ngoc Bien village in the southern Vietnamese province of Tra Vinh, as he surveyed his 2,000 square meters (half an acre) of dead, dry paddies.
"I don't know what to do. And there's nothing I can do to help with my rice paddies."
Tai said his 70-year-old father and other elderly people in the village of more than 180 families had never witnessed such drought and salination.
The current El Nino is one of the strongest climate events in the past 60 years "that is not over yet," said Kundhavi Kadiresan, assistant director-general at the U.N.'s Food and Agriculture Organization. It is the main factor in the drought, but "dams along the Mekong can and certainly do cause some problems," she said.
Vietnam says the saltwater intrusion into its southern Mekong Delta is unprecedented. In mid-March, it asked China to double the amount of water discharged from its Jinghong dam in Yunnan province. China agreed and the increased water flow is expected to continue until April 10.
Pham Tuan Phan, chief executive of the Mekong River Commission, a body set up to mediate the conflicting priorities of upstream and downstream Mekong countries, called the Chinese move a "gesture of goodwill."
China was embarking on unprecedented water diplomacy, declared Thailand's English-language Nation newspaper. China's Foreign Ministry said the government had decided to "overcome its own difficulties to offer emergency water flows."
The Chinese move was hailed as progress because it was the first time it had notified downstream countries of its plans for the Mekong's water level. But it also underlined the power China holds over a shared life-sustaining resource and the Mekong environment overall.
Ma Quang Trung, a department director at Vietnam's Agriculture Ministry, said discharges from the Jinghong dam might help reduce fresh water shortages for 575,000 Vietnamese, but are unlikely to ease the drought overall. Vietnam is so far downstream that only a small portion of the discharged water will reach it. He blames the drought on El Nino and Mekong dams.
In this March 28, 2016 photo, water release valves are seen at a almost dry canal in Chai Nat province, Thailand. Photo: Sakchai Lalit / Associated Press
Thailand, meanwhile, has added to regional tensions over the resource by deciding to pump large volumes of Mekong water to drought-afflicted provinces.
Many more dams are planned for the Mekong, including by China and landlocked Laos, which with Chinese support sees hydropower exports becoming the mainstay of its economy, one of Asia's least developed. As a member of the toothless river commission, Laos must consult Thailand, Vietnam and Cambodia but does not need their approval.
Laos went ahead with construction of the Xayaburi dam in 2012 over the concerns of its neighbors, who first wanted an in-depth study on what they feared would be profound effects on the Mekong, one of the world's largest inland fisheries. Existing research on dams worldwide shows they significantly diminish fishing grounds by creating barriers to breeding-cycle migrations and creating river conditions that destroy habitat and food sources.
Piaporn Deetes, a campaigner in Thailand for Rivers International, an advocacy group, scoffs at the idea that the Jinghong discharge was a selfless act by China to help its neighbors. She said China gets benefits such as electricity generation, and the temporarily higher water level makes for easier navigation on its section of the river.
In this March 28, 2016 photo, Thai workers repair a dried up irrigation canal at Chai Nat province, Thailand. Photo: Sakchai Lalit / Associated Press
The discharge also had disastrous consequences that were inevitable because millions who live along the Mekong and depend on it for their livelihoods were unaware water levels would suddenly rise.
River bank vegetable gardens were submerged and boats and fishing equipment swept away, said Deetes. Harvests of kaipen, a freshwater weed exported to Japan that is large source of income for river communities, were destroyed.
"The Mekong is not a tap," she said. "It is a complex ecosystem."
Story: Tran Van Minh and Stephen Wright / Associated Press