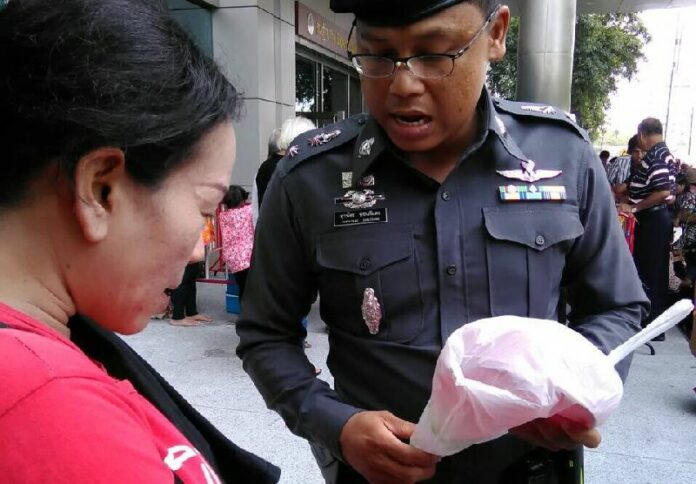 BANGKOK — Police officers today were seen confiscating Songkran festival bowls from supporters of ousted Prime Minister Yingluck Shinawatra without giving any clear reason.
The incident is part of the saga of the authorities' surreal crackdown on the red bowls, which were distributed by the Shinawatra family to its supporters late last month.
---
Thairath Reporter Taken to Army Base for 'Red Bowl' Report
---
Police moved in on crowds of Yingluck supporters assembled at the Bangkok courthouse where she appeared Friday for a hearing in her trial over alleged corruption and confiscated bowls many were carrying, according to a Matichon reporter.
They reportedly bore messages including "I love the person you hate, I hate the person you love," and "We Love Prime Minister Pu," in reference to her nickname.
Police officers collect red bowls Friday in Bangkok. Photo: Matichon
While officers were said to take away the items without offering any reason, the local police commander denied giving any such order.
"We didn't confiscate anything … Nothing happened. Everything went smoothly," said Col. Termphao Siriphuban, head of Thung Song Hong Station. "I was there today. I didn't see the officers confiscate anything. If they did, they would have reported it to me already."
But he acknowledged other police units present at the court today might have taken the bowls.
Asked whether Yingluck's supporters can bring red bowls to public rallies, Termphao said his force has no stance on the matter.
"We only focused on banners. If there are banners that don't look good, that verge on political protest, we have to confiscate them.But we have no policy on red bowls," he said with an audible chuckle.
On Tuesday, a Redshirt activist in Chiang Mai was arrested and charged with sedition for posing for a photo with one of the red bowls distributed by Yingluck and her brother, former premier Thaksin Shinawatra. Thaksin remains de facto leader of his political dynasty despite being ousted in a coup nearly 10 years ago.
A reporter for Thairath, the largest newspaper in Thailand, was also briefly detained and interrogated at an army base in the province for reporting about the bowl.
Since staging the coup against the pro-Shinawatra government in May 2014, the junta has been working to dismantle political influence of the family and its allies.
Related stories:
Shinawatras Defy Junta With Publicity Drive
A Country Divided by a Calendar
Junta Warns Redshirts Not to Don Red Shirts
Soldiers Confiscate 'Thaksin Strawberry Jam'
Teeranai Charuvastra can be reached at [email protected] and @Teeranai_C.