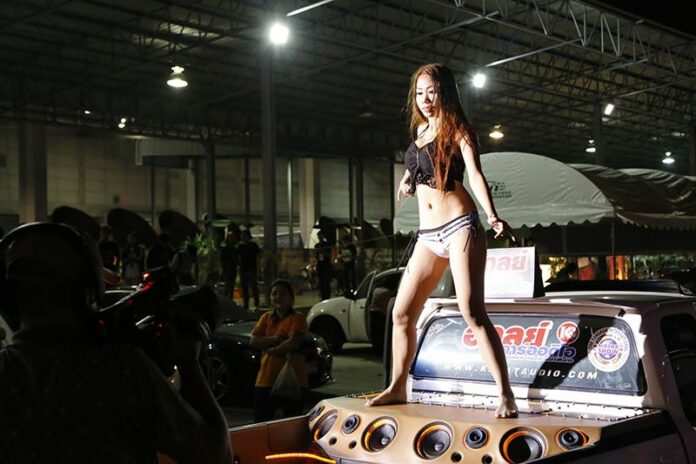 BANGKOK — Days before Bangkok's biggest motor show opened, Culture Minister Veera Rojpojanarat took the moral high ground with a public plea it convey more "Thainess," meaning fewer scantily clad models acting as hood ornaments.
That didn't stop the models called "pretties" from putting on a show.
Historically the Bangkok International Motor Show has been about the pretties as much the latest automotive debuts.
Read: Govt Wants Less Sex, More 'Thainess' for Motor Show Pretties
Sales reps in sharp suits and pressed blouses and shiny cars serve to somewhat offset the glaring sexuality of pasty pretties flashing timid smiles, but the number of lenses pointed at the women and not the cars is a democratic indicator of what draws crowds.
But walk out the rear exit into the parking lot and find a world that would make Khun Veera's head spin. The lot is packed with modified pickup trucks blasting tunes usually found in sois Cowboy and Patpong. Astride every vehicle are coyote dancers writhing to the beat, dressed up like characters from The Monkey King or – more often – dressed down in close to nothing at all.

Welcome to the Formula X parking lot bash that runs concurrently with the annual auto show.
Formula X is an importer of automotive audio products such as subwoofers, amplifiers and speakers. It's part of an automotive subculture in which booming subwoofers and blooming women dancing coyotes. Wolf packs of photographers hunt through rows of modified trucks in search of their favorite pretty to shoot gigabytes worth of media.
I spoke to one dancer about the throngs of girls flying in the face of the culture minister's request for proper "Thainess."
"I think most all the customers and people come here for the dancing show. I don't know why he would do like that." Nan remarked. "I think he can't stop it."
For many Singaporeans, Malaysians, and Japanese this gathering is exactly the reason they travel to Thailand every year to witness the spectacle, zoom lens in hand.
One photographer I spoke to was dispatched by a Malaysian auto magazine. In short, the Formula X show is as unique to Thailand as tuk-tuks and close-cut student uniforms.
Pretend otherwise, but it's the "Thainess" they're coming for which they can't find at home.
Related stories:
Did These Motor Show Pretties Hew to 'Thainess?'