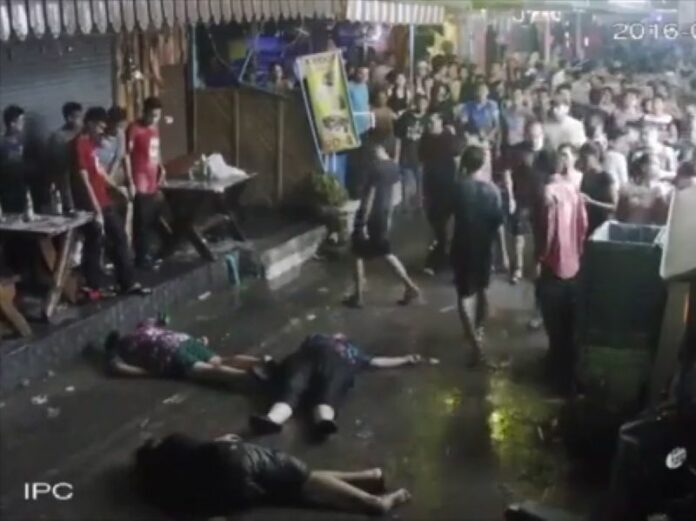 HUA HIN — Police said today that three Thai men have been charged for assaulting a family of British tourists in the resort town of Hua Hin during the Songkran festival. A fourth is still at large.
The April 13 attack, which left the three Britons lying motionless in the street, was captured on security camera footage that went viral since making its way online Wednesday. The assault took place in a street crowded with revelers participating in the nationwide water fight celebrated as part of Thai New Year festivities.


A copy of the original video uploaded to YouTube by local media in Hua Hin, which was subsequently removed after the story spread
Police identified four men as the assailants, said Chaiyakorn Sriladacho, commander of Hua Hin City Police Station: Yingyai Kwangkum-in, 32; Supatra Baithong, 32; Siva Yoksri, 20; and Chaiya Jaiboon, 20.
The victims were a British man in his 40s and his parents, both in their 60s.
Yingyai, Supatra and Siva were arrested April 16, while police are still looking for Chaiya, Col. Chaiyakorn said Thursday.
The three suspects told police they collided in the street with one of the tourists in a bar on Soi Bintabaht near Wat Hua Hin, Chaiyakorn said, and an argument soon broke out between the two parties. The suspects said the younger British man pushed and slapped one of them first, so they jumped on the family and savagely beat them.
"The perpetrators said they were drunk. They have also apologized to the family," the police colonel said.
He said the younger Briton received seven stitches for a scalp wound, while his father had a swollen wound on his head, and his mother suffered a head injury that has left her with occasional headaches.
Yingyai, Supatra and Siva will be tried for causing grievous bodily harm in a Hua Hin court, where the judges have sped up witness examination because the family are scheduled to return to Britain soon, Chaiyakorn said. The three suspects are currently free on bail.
Related stories:
Scotsman Brutally Assaulted By Thais In Pattaya, Police Say
British Tourist Assaulted by 3 Thais in Pattaya
Netizens Jeer Bargirl in Songkran Sexual Assault Video
Teeranai Charuvastra can be reached at [email protected] and @Teeranai_C.