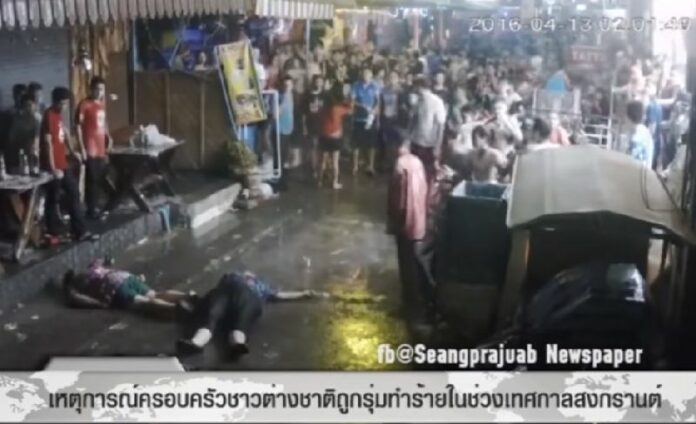 By Teeranai Charuvastra
Staff Reporter
HUA HIN — A police commander said today an internal investigation has been launched into whether the footage of a savage assault of three British tourists in Hua Hin during the Thai New Year holiday was leaked from the police force.
Provincial police commander Kasana Jamsawang said Saturday the inquiry is a strictly internal matter, and netizens are still free to share the security camera footage of the April 13 attack, which left the three Britons unconscious on a street crowded with celebrating Songkran.
---
Fourth Suspect Arrested for Assaulting British Family in Hua Hin
---
"This is an internal inquiry, because in the criminal investigation, video of the crime is considered evidence, so we want to know if any of the officers published it [without permission]," Maj.Gen. Kasana said.
Kasana disputed a report from the second largest newspaper in Thailand, Daily News, which quoted him saying police would hunt down those responsible for publishing the video on social media because it damaged the reputation of Thailand and violated the rights of the victims.
According to Kasana, police will not take any legal action against netizens who share the footage.
"It is not an offense under the Computer Crime Act," Maj.Gen. Kasana said. "I merely raised a question to the reporter, does spreading the video violate rights of the victims?"
Although the brutal attack happened April 13, it wasn't until on Wednesday that the incident surfaced on the media, after a local newspaper obtained the security camera footage and shared it online.
Three suspects had been arrested by then, and a fourth was charged Thursday. The four Thai men, now free on bail, are accused of causing grievous bodily harm by punching and kicking the British family until they were knocked out in the street.
Related stories:
Three Arrested Over Brutal Beating of British Family
Teeranai Charuvastra can be reached at [email protected] and @Teeranai_C.