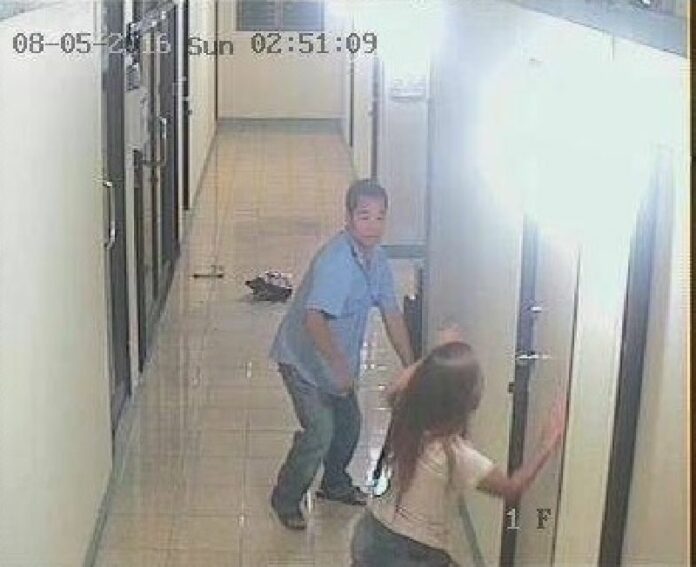 BANGKOK — A cab driver admitted to attempting to drag a woman away from her apartment building at 2am, an action he justified by saying she owed him 20 baht in fare.
For the altercation, footage of which was captured by the apartment's CCTV system and shared online, Suracha Jenjab, 49, has been charged with assault, police said.
The woman in the video, who gave her name only as Orathai, told police Wednesday that she hailed Suracha to drive her to the apartment on Soi Ramintra 115 in the early hours of Sunday morning.
After the ride, which she said was otherwise uneventful, the fare came to 220 baht, but Orathai only had 200 baht, so she told the driver to wait while she went to her room to get the money. Orathai said she also left her bag in the car as a guarantee she would return.
But when she went back to the taxi, Orathai said the driver was no longer there, so she retrieved her bag. It was at this moment that Suracha grabbed her from behind and tried to force her into the car, but she wriggled free and ran into the apartment building, she said.
In the footage, Suracha could be seen following Orathai into the building and forcefully dragging her away. After some residents were drawn by Orathai's screams, she said Suracha eventually let go and accepted the money before driving away from the scene.
In a meeting with police on Wednesday, Suracha did not dispute much of Orathai's account of the event. He said he was urinating in the nearby woods when Orathai returned to his car, and he did not try to force her into his car.
Suracha Jenjab (in blue) talks to police on Wednesday at Min Buri Police Station
Suracha also said he thought Orathai tried to ditch the fare, so he followed her to get the money.
Col. Kanyachol Intraram, commander of Min Buri Police Station, said Suracha has been charged with assault.
Although Kanyachol said he sympathized with Suracha for fearing that Orathai would not pay the fare, he said Suracha should not have resorted to violence as seen in the footage.
"He should have pressed the doorbell, or called the police, or called the housekeepers," Kanyachol said. "It's not his duty to manhandle and drag her. It was a clear case of assault."
Police are investigating the incident, he added.
Related stories:
Taxi Driver Ex-Con Accused of Robbing Chinese Tourists
Taxi Driver Accused of Raping Drunk Passenger Leaving RCA
Cops Arrests Taxi Driver for Robbing Foreigner
Police Seeking Arrest of Masturbating Cabbie
Bangkok Cabbie Arrested for Attempting to Rape Passenger