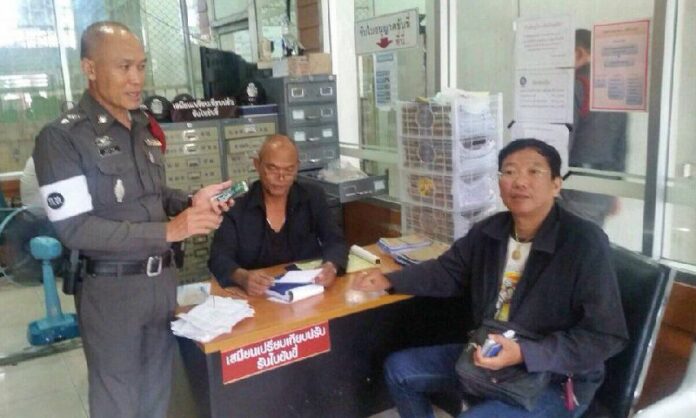 BANGKOK — A GrabBike motorcycle taxi driver recently chased off from a Chulalongkorn University dorm by traditional motorbike taxis had to pay 4,000 baht in fines yesterday for operating illegally.
GrabBike employee Pitsanu Tiwasamrit was fined for going to pick up the student passenger Monday, who filmed the ensuring motosai-GrabBike confrontation on video.
The viral video, uploaded by Facebook user Aof Theinhiran on Monday, shows an orange-vested motorcycle taxi driver snatching away Pitsanu's key and verbally challenging him to a fight.
As the incident drew attention, Pitsanu was charged Wednesday with three offenses — using a private vehicle for a taxi service which carries a fine of 2,000 baht, operating a service without an appropriate license and not wearing the requisite motorbike vest, which carry fines of 1,000 baht each, according to Col. Charut Sarutyaporn, chief of Pathumwan Police Station. He visited the station to pay the fines Wednesday.
In March, the military government unilaterally declared that on-demand ride services by GrabBike and UberMoto were illegal. Both companies then proceeded to ignore the ban and continue operating.
For threatening Pitsanu and taking his key, the unidentified motosai has not been charged with any offense, but received a warning from the Land Transport Department, Charut said.

Related stories
'You Wanna Fight?' Bangkok Moto Taxis Confront GrabBike
UberMoto Ignores Same Ban Ignored by GrabBike
GrabBike Responds to Govt Ban With Big Discount and Apathy
Military, Police to Monitor GrabBike Shutdown