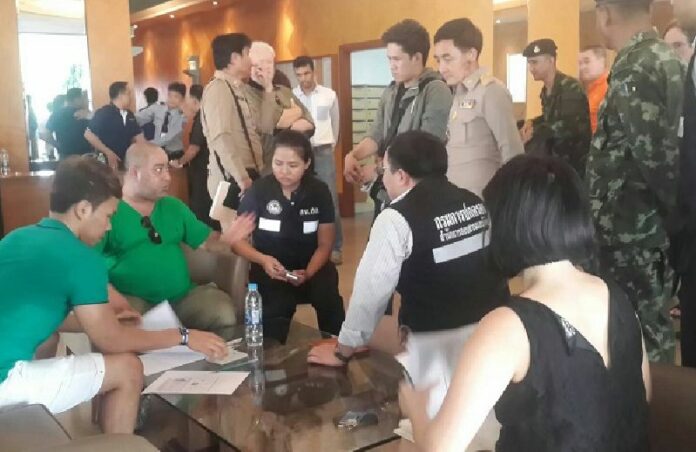 BANGKOK — Authorities yesterday raided a Condominium building in Soi Sukhumvit 11 which was suspected of operating as an unlicensed hotel for foreign guests.
Sakchai Nithiaphaphan, 67, the manager of Liberty Park II Condominium was charged Thursday for letting foreigners stay without informing authorities and running a hotel without permission. The charges stemmed from allegations that he allowed foreigners stay in the building for periods of less than one month.
Sakchai Tanghor, Director of the Investigation and Legal Affairs Bureau, said he received a complaint from a resident of Liberty Park II Condominium who claimed to be concerned about security and was annoyed by the foreign guests staying in the condominium building.
The joint inspection carried out Thursday by police, immigration officials and soldiers found that most of the foreign guests were from Middle Eastern countries including Oman and the United Arab Emirates. The foreigners were in Thailand to receive medical services and all entered the kingdom legally.
Authorities said the fact that Sakchai did not register for a hotel license indicated his intention to avoid paying tax.
Additionally, not collecting and keeping information from foreign guests in a proper manner could be harmful to national security, especially if any of the guests turned out to be a terrorists, the Director of Investigation and Legal Affairs Bureau told reporters following Thursday's raid.
The manager of the building admitted all the charges and said he plans to confess at trial, though he insisted on having no intention to break the law.
Sakchai said that 22 units out of 137 in the condominium building were used exclusively for foreign guests to stay short term in Bangkok. However, Sakchai claims that at present there is only one foreign guest staying for less than one month in the building, which violates the law. He denied claims that some units in the building are occupied by more than ten guests.
"Sometimes I let them stay without a monthly rental contract because they need to see the doctor first to know how long they will need to stay," he said in an interview on Friday.
Most of his foreign guests are patients at the nearby Bumrungrad International Hospital and were recommended to stay in the building by staff from their embassies, Sakchai said.
The manager said he suspected that the complaint was filed by one resident who had previously told him of her concerns about having guests from Islamic countries stay in the building.
"From now on I will have to make everyone sign rental contracts for at least one month."
Related stories:
Bangkok Bombing Dragnet Yields 142 Unrelated Arrests
Migrant Workers Instructed to Wear ID Wristbands
Police Call for Tougher Immigration Measures in Aftermath of Rape