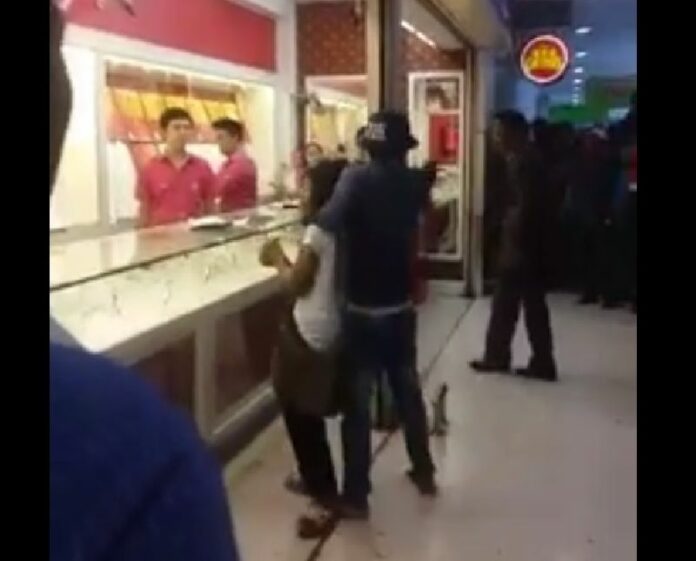 BANGKOK — A plot by a man from Myanmar to rob a gold store in a Bangkok hypermarket by holding a 9-year-old girl hostage ended ignominiously today when a crowd of onlookers surged in to attack him and end a tense stand-off.
The suspect, Min Sa, has been sent to hospital to dress wounds suffered in the brawl and also to undergo a drug test, said Col. Surapong Thanormjit, interim chief of Bang Bua Thong Police Station. The incident was captured on a cellphone, footage of which has been shared widely on social media.
According to Surapong, Min walked to a gold shop at Big C hypermarket in Bang Bua Thong around 1.45pm, drew a knife, and grabbed a nearby girl to hold hostage while he instructed the shopkeepers to hand him gold.
Min soon drew attention from a large crowd, and police officers stationed at the mall tried to negotiate with the suspect, but Min would not let go of the girl, so one of the officers decided to charge at him, Surapong said.
"The negotiation lasted about four minutes," Surapong said.
At that point, other bystanders also rushed in to beat Min, causing wounds to his head, according to Surapong. He was later send to hospital. The 9-year-old girl was slightly injured and still "shaken" by the incident, but otherwise she's in a stable condition, Surapong said.
The colonel said Min appeared to be unhinged from his conversation with police after the arrest, and doctors will test him for any possible drug use.
"He kept repeating things," Col. Surapong said.
He added that police will also search his home and check whether he's residing in Thailand legally.