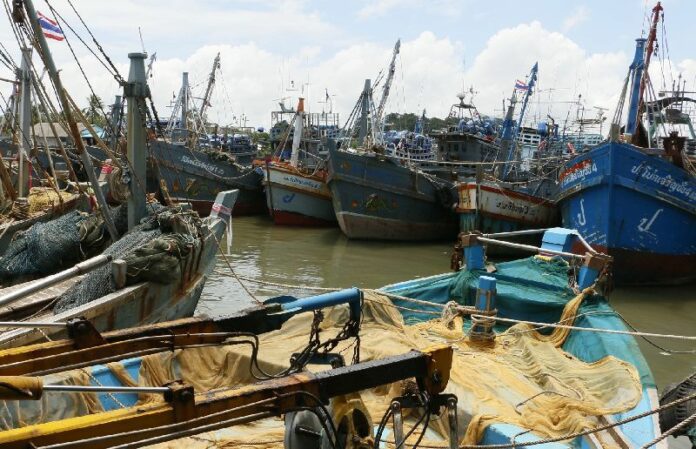 JAKARTA, Indonesia — Three Thai fishing boat captains have escaped from custody in Indonesia after their vessels were seized with dozens of trafficked foreign fishermen on board, an official said Tuesday.
The captains were detained on April 12 when they were found operating trawlers under Malaysian flags that were fishing off Kalimantan, Indonesia's part of Borneo island, said Sumono Darwinto, chief of the local fishing office in Pontianak.
He said the captains escaped on May 7 after scaling the wall of their detention center in the middle of the night, and are being sought by police and military officials. Eight other Thai crew members remain in detention.
The Fisheries Ministry in Jakarta said the 79 crew members from Cambodia and Myanmar were identified as victims of trafficking, and most had fake Thai travel documents.
Cambodia's Foreign Ministry has said 54 of its citizens were found on the boats after having been lured into taking jobs that promised high salaries and large bonuses for bringing in a lot of fish.
Indonesian authorities have been aggressively cracking down on foreign fishing vessels operating illegally in the country's waters. To send a message to foreign fishing companies, Fisheries Minister Susi Pudjiastuti has ordered that boats found plundering fish from Indonesian waters be blown up and sunk, and has taken a strong stance against trafficked fishermen.
The latest boat seizures come after a yearlong Associated Press investigation into human trafficking in Southeast Asia's lucrative seafood industry. It exposed a slave island in remote eastern Indonesia where hundreds of poor migrant fishermen, mostly from Myanmar, were being brutally abused aboard Thai-run trawlers and forced to fish for little or no money for years at a time. The AP followed the fish caught by the slaves to Thailand and then to some of America's largest food sellers, including Wal-Mart, Kroger and Sysco. More than 2,000 fishermen were freed last year after the stories were published.
Story: Ali Kotarumalos / Associated Press
To reach us about this article or another matter, please contact us by e-mail at: [email protected].